Even Greater Joy...
Harare is the capital and most populous city in Zimbabwe, with nearly 3 million people. The city was originally founded as Fort Salisbury, but was renamed in 1982. Situated at a reasonably high altitude on the Highveld plateau, the city enjoys a pleasant, subtropical climate.
The two largest ethnic groups in Zimbabwe are Shona and Ndebele. There are numerous smaller groups and languages or dialects. English is the official language and almost 90% of the population can read and write in English.
Harare is Zimbabwe's leading financial, commercial, and communications center, and a trade center for tobacco, maize, cotton, and citrus fruits. Zimbabwe is also rich in mineral resources, like gold, platinum, copper, nickel, tin and diamonds.
The CfaN Gospel Campaign will take place in the region of Chitungwiza, which is a comparatively young, high density town. It is located about 30km south of Harare city centre and is one of the fastest growing regions in the country. The international airport of Harare is situated between the city center and Chitungwiza.
More than 30 years have passed since CfaN last held a Gospel Campaign in Zimbabwe. We are fully overjoyed to now take the Gospel of salvation, healing and deliverance through Jesus Christ to the new generation of Harare and its surrounding region.
A report from 1984
Gospel Campaign in Harare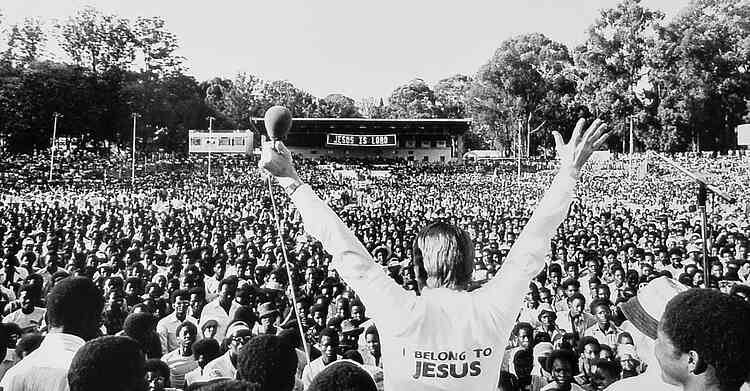 "We finished our campaign season of 1984 in Harare, Zimbabwe. Without the big tent we were forced to hold open-air meetings again in Rufaro Stadium. 38 denominations cooperated in this meeting.
In one of our early meetings in Rufaro Stadium, an elderly lady came forward for prayer. She was blind and walked with great difficulty. When hands were laid on her she felt sudden warmth and then blinked her eyes. She thought she saw stars in the distance. Suddenly they grew into our stadium lights. She could see clearly! I could not keep that lady from rushing me on the platform and demanding to tell the people what had happened to her. It electrified the crowd.
On the final weekend a fine drizzle began that turned into a downpour. Some of the people scrambled for cover, including me. When I looked to the field, however, most of the people had remained in their places.
The campaign committee huddled under umbrellas and suggested that we close the meeting. They would announce one more meeting to be held in the afternoon tomorrow, hoping for better weather. But out of the rain a chant began to come to my ears: "We want the gospel." Over and over they repeated it. This sound in my ears could not be ignored. The lesson of Uganda came to mind. If these people were that hungry to hear another sermon, I was going to deliver it. I preached a message on the baptism of the Holy Spirit. Many received the gift that night and spoke in tongues in the pouring rain. It was a sound like I have never heard. Pouring rain that could not drown the fire of the Holy Spirit."
(Excerpt from Reinhard Bonnkes Autobiography 'Living a Life of Fire', Chapter 25)