From every tribe and tongue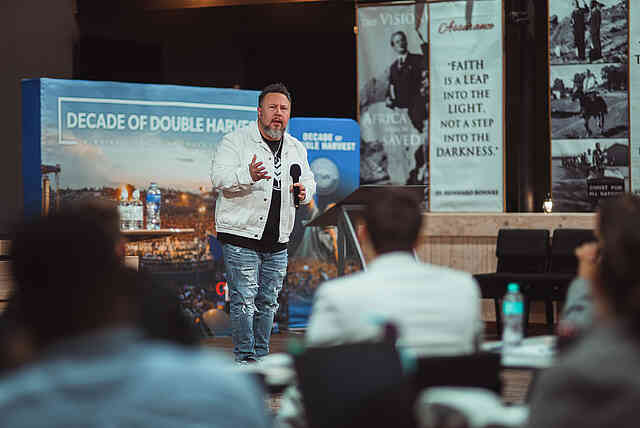 Our hearts are filled with thanksgiving for what the Lord has done in Cape Town, South Africa, over the past two months. We can truly say that the first CfaN School of Evangelism was a tremendous success – and for that, we give God all the glory.
Six weeks of concentrated training
The students came from all over South Africa, and from Zimbabwe, Zambia, France, Ghana, Tanzania and Zambia. The youngest was only 20, and the oldest was 69. They came from different ethnic backgrounds and from all walks of life and spoke many languages. But they all had the same heart's desire – to give their all for the sake of the Gospel.
The first six weeks were full of intensive teaching and deep ministry. They were taught by experienced evangelists and ministers, including Evangelist Daniel Kolenda, Evangelist Levi Lutz, Rev. Peter Vandenberg, and many others. Topics covered both the spiritual (theology, faith, the work of the Holy Spirit) and the practical, including the nuts and bolts of organizing evangelistic events, working with local churches and integrity in ministry.
Spending time in Jesus' presence
Every morning began with one to two hours of meditative prayer and quiet worship. This is the bedrock on which everything else is built. And it was during this time each day that students particularly experienced the deep, loving work of the Holy Spirit. This emphasis on simply being in the Lord's presence was something many students spoke of as the most life-changing aspect of the course. This is what revival looks like, hearts and lives consumed with love for Jesus and a desire for the Lord's will above all else. No-one who was present in these sessions came away unchanged.
Outreaches from Week One
From the beginning, students were going out three times a week for one-on-one outreaches. We are not all the same: Some are better at one-on-one evangelism. Others want to work with local churches and smaller campaigns or are called to child evangelism. CfaN, recognising that not everybody is called to mass campaigns, exposed students to many different evangelism methods to help them find their niche. Taking what they had learnt and putting it into practice, they shared the Gospel, prayed for the sick, and cast out demons.
Rochelle Hicks from Johannesburg, South Africa, shared this testimony: "During our outreach at the Cape Town waterfront, I met an older Muslim lady. She had incredible pain in her legs due to arthritis. God drew me to her as we walked past. I asked if I could pray for her legs, and she said yes. After praying, she walked up and down saying all the pain was gone. I ministered the Gospel to her and told her that Jesus Christ is the one who healed her. She not only experienced healing, but the Holy Spirit touched her heart so deeply. She confessed with her mouth and believed in her heart that Jesus is Lord. She repented and gave Him her whole heart!"
After every outreach, students shared testimonies of people being healed, delivered and saved. Day by day, their faith and confidence grew.
Tested and proven
After the six weeks they spent in the classroom, the students went through their "Initiation". This was two weeks of back-to-back outreaches, culminating in mini-campaigns in Capricorn and Ocean View, two poverty-stricken and violent communities on the outskirts of Cape Town.
It was gruelling, a test of character, fortitude and perseverance. Up at 5am each morning, the students were out evangelizing day and night. They preached the Gospel on the streets, in schools, in malls, markets, trains and taxi ranks. They visited people in their homes in various slums and proclaimed the Good News from the back of a truck. Wherever they were given an open door, they confidently and joyfully brought people to Jesus.
And Heaven rejoices at the results their hard work and faithful service brought. Over the two weeks, there were 120 outreaches and 4 nights of Gospel Campaign meetings, resulting in a total of 11 010 documented decisions for Jesus!
35 students graduated
Having completed their Initiation, and shown themselves to be committed, dedicated, Spirit-filled evangelists, 35 students went on to graduate in a special ceremony. Evangelist Levi Lutz was there to pray for the students, exhort and encourage them, and together with the CfaN staff, release them to go and win souls wherever the Lord sends them.
Deep friendships and connections have been forged between the graduates in the fire of this experience. The unity and love between them is itself a witness to the work of the Holy Spirit, a visible expression of what it means to follow Jesus. We are so proud of every one of them, and congratulate them on completing this journey. And we know that as they go, they will be faithful instruments in the Lord's hands.
This is just the beginning!
Just think of what will happen to South Africa and beyond, as more and more laborers are equipped and sent into the harvest field. The next School of Evangelism in Cape Town is already in preparation for 2023, and applications are flooding in. We long for more – more evangelists, more outreaches, more churches caring for new disciples, more salvations, more healings, more of God!
Thank you for sharing in this vision
We literally could not do any of this without the love, support and encouragement of our partners. Your giving and your prayers have made this possible – and together, we are seeing something remarkable arising in South Africa. Together, we are raising up a generation of evangelists who will spread the Gospel throughout Africa.