Have you ever wondered what heaven will be like?
For all of us who were at Fire19 in Hamburg, it seemed as if we got a glimpse of that glorious day. After many months of hard work and preparation, what a joy it was to look out at thousands of believers, packed into the Hamburg Sporthalle, eagerly awaiting the move of God among them.
In the days before, an army of volunteers from many Hamburg churches joined forces with the CfaN Europe team to get everything ready. Before the first meeting started, there was already such a sense of excitement, and a beautiful spirit of unity, with no job too big or too small for the team to tackle together.
Then, at last, we were ready. The Holy Spirit Night Band took the stage, and from the first chords of the first song, a shout of praise rang through the hall.
The vision for Fire19
The founder of CfaN, Evangelist Reinhard Bonnke, had a burden from the Lord on his heart. He felt God was saying that it was time to "pass the torch" – not just to Evangelist Daniel Kolenda, who has been CfaN's president for the last nine years, but also to a whole generation of believers in Germany. After a lifetime of ministry, preaching the Gospel to multiplied millions of people, it was time to bless and encourage others to take up the mantle. What better place to do that, than in Hamburg, where Reinhard grew up and first felt the call of God to preach the Gospel? And with that, the theme for our conference became clear. This would be a time, not only of farewells, but of fresh, new beginnings.
Reinhard introduces Daniel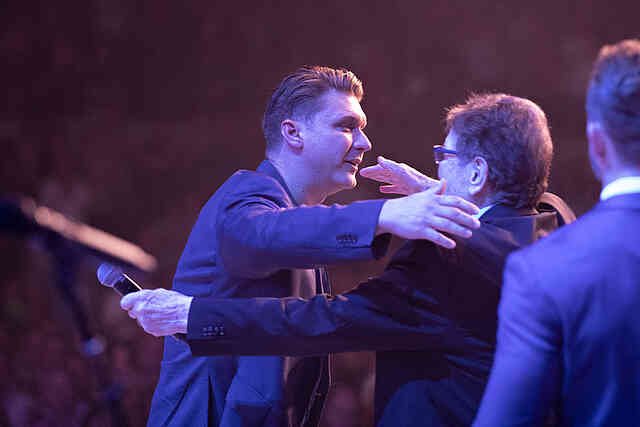 After a joyful time of worship on Friday night, Evangelist Bonnke greeted everyone, and took some time to introduce Daniel Kolenda. He told the crowd about the first time, many years ago, that Daniel spoke from the stage at a CfaN campaign in Africa. In that moment, he knew that the Lord had sent a successor to take the vision of Christ for all Nations into the 21st century. As Daniel preached on Psalm 51:10, the atmosphere in the hall was electric. People had come ready and willing to hear from God, and the message – "God will not repair your heart; He will give you a new one!" – fell on fertile soil.
A day of spiritual challenge and miracles
On Saturday, we marveled at the thread the Holy Spirit wove through the day. Each message built upon the previous one, and each time of ministry seemed to go deeper than the one before. Peter Vandenberg opened the day, exhorting us to become "the Lord's arrows of victory" (2 Kings 13:17). Todd White followed, and as he shared his powerful testimony, many in the crowd were moved to tears. When he called on people to come to the front for prayer, the floor in front of the stage was quickly filled with people reaching out for a touch of God. In groups, believers prayed for one another, and many received their healing.
Daniel Kolenda took the stage again in the afternoon, reminding us to possess, value and pursue the promise of God. And then a very tender and precious moment happened, when Peter Wenz shared that God had laid it on his heart, not only to honor Reinhard Bonnke for his faithful ministry, but also to apologize on behalf of Germany for times in the past when Reinhard was not accepted, and even attacked, by some Christians there. This brought a lovely spirit of humility and power into the room. God was preparing us for the final meeting.
"I have fought the good fight, I have finished the race, I have kept the faith."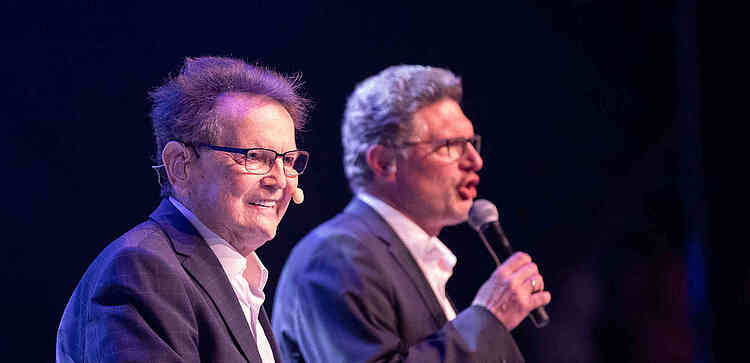 Before Evangelist Bonnke took the stage with his final message, we watched a tribute video, a powerful reminder of just how much God can do with a life that is totally surrendered to Him. So many people brought to Jesus, so many lives and even nations, changed forever because of an obedient heart.
Reinhard Bonnke is nearly eighty years old, but as he began to speak, the years fell away, and the power of the Holy Spirit gave him strength and authority. This was no meek goodbye, not a gentle farewell. He preached with passion and conviction, and shook the rafters with this challenge – it is YOUR turn! "We serve the greatest God!" he said, "And He is here now to pick out the young and the old who will go out and they will proclaim the Gospel. And they will then see how God confirms His Gospel." As he prepared to pray a sending-out blessing over all who were there, he challenged us: "Who in this auditorium, or around the world, is prepared to run this marathon for Jesus? Lord, here am I. Send me."
It's time to GO!
Hearts were touched, and many hundreds lifted their hands to show they had heard the call. It was a powerful moment, and one couldn't help but feel that Hamburg – and Germany – would never be the same. Finally, with much love, Evangelist Bonnke and his wife took the time to personally shake the hands of more than a thousand of the attendees, a fond farewell to Germany, the country where their ministry began.
It was an unforgettable weekend for us at CfaN, a time of fellowship with precious friends of the ministry from Germany and all over the globe. We have been energized and encouraged, and we look to the future with joy and anticipation.
Outreach at the Hansaplatz, Hamburg
After the final meeting on Saturday evening, our new Gospel Truck, identical to the ones we use in Africa, was put to good use in the Hansaplatz in Hamburg. Local churches organized an evangelistic outreach in this "red light" district. Evangelist Todd White preached and prayed for the sick, and the response was fantastic. Many gave their lives to Jesus right there – God in action here and now!