God's Reckless Love for Budapest, Hungary
The CfaN Fire Conference and Reckless Love Gospel Campaign held from 24 – 26 August in Budapest, Hungary has proven once again that God is not limited to Africa.
The biggest arena in Budapest became a real sanctuary for the three days as multitudes of believers exalted the name of Jesus. Evangelist Daniel Kolenda and his outstanding team of guest speakers – Evangelists Todd White, Peter Vandenberg, Russell K. Benson, Ben Fitzgerald, Jean-Luc Trachsel and Eric Gilmour – ignited the Hungarian audience, grabbing and shaping the hearts of the believers with relevant and timely messages. Believers responded with an open heart to God's call – leaving behind hypocrisy and the fear of man, and stepping into their ministry and calling. The audience was strengthened in their spiritual identity on all levels.
Deliverance and joy in the Fire Tunnel
During the fire tunnel, Daniel Kolenda and the CfaN team laid hands on every single person who attended the meeting. People experienced the fire of the Holy Spirit, responding with exuberant joy and tears, and deliverance upon deliverance took place in the arena. And amazing healings and miracles happened during the event. Literally hundreds upon hundreds of people raised their hands testifying of healing in their bodies.
A series of preliminary gospel outreaches has shown that harvest time is coming to Europe – people in the streets are thirsty for the Good News. Budapest was saturated the Gospel: 500,000 people received Daniel Kolenda's new booklet, "Reckless Love", together with a personal invitation for the event itself. An anointed message about the Father's reckless love was heard and preached right across the city, which has a population over 2.5 million people.
Media spotlight on the Gospel
The event received vast media publicity, with interviews and several news spots on the main national TV channel, M1. A radio reporter from Kossuth Radio asked Peter Vandenberg to preach the Gospel to the listeners and as a result, the reporter herself received Jesus as her Savior. Mr. Zsolt Semjén, the Hungarian Deputy Prime Minister, came to visit the conference. He greeted the speakers and committee members who then blessed him and prayed for him as well as for the entire Hungarian government. A corporate prayer of blessing over Hungary with a huge Hungarian flag held by 30 pastors on stage was another emotional moment later during the conference.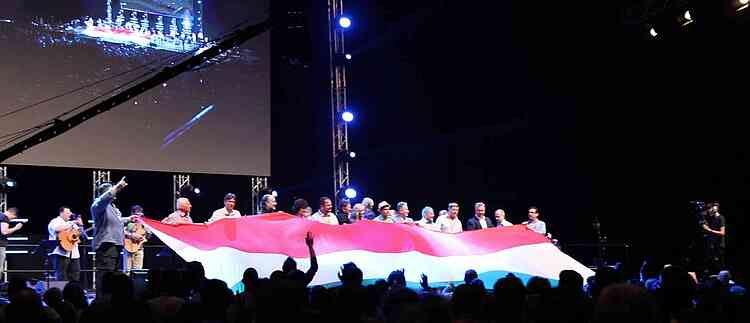 Unity in the Body of Christ leads to a harvest of salvation
All the hard work, preparation, prayers and faith of thousands of believers culminated in two great Gospel nights during which Daniel Kolenda preached anointed messages and delivered the crystal-clear Gospel to the audience. People all over the arena stood up and prayed the prayer of salvation. We collected over 1,450 decision cards, which is more than 10% of the crowd gathered in those 2 nights. Prodigal sons and daughters returned to their Father. What a glorious moment!
According to many, the widespread cooperation of the many and varied churches, movements and denominations was itself an outstanding miracle (or perhaps good fruit) in a country that has been known for division in the past. As Natalia Kis-Katos, Co-Pastor of Heart Bunker Church, said: "Christ for all Nations' ministry proved to break down walls of division in Jesus' name and helped non-believers, believers and local churches alike to find their true identity in Christ."