Daloa Day 2
Showers of Blessings
Our Fire Conference started this morning at 6:00 AM – before the sun had risen! We are amazed by the hunger of these pastors and leaders, who would come out so early, many of them walking for miles to reach the site. They are hungry for the Word of God and for a touch from Heaven. Peter Vandenberg and Pastor Tyrone Gray ministered in power, and the pastors were very blessed. Tomorrow, we will lay hands on them and pray for them to receive the baptism into the Holy Spirit. This is always one of the highlights of the week for us.
Tonight, several hours before the meeting started, the rain began to pour. It soaked the field, turning it into mud. We wondered how the people would respond. To our surprise, the crowd actually grew significantly over the previous night. I preached about the power of the blood of Jesus and asked Pastor Gray to help me pray for the sick and break the curses. Many wonderful miracles took place.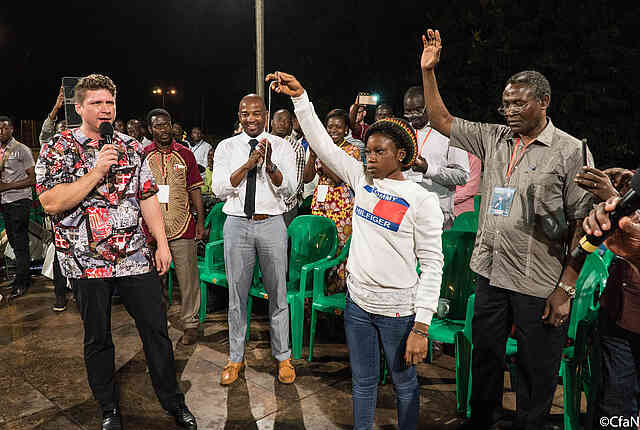 A woman had a tumor in her stomach that was painful and protruding. She had lost three pregnancies and believes it was due to the tumor. So she went to the witch-doctor for help. He gave her a charm to wear around her waist, but her condition had not changed. Tonight, during the prayer for the sick, the tumor vanished! She told me her story on the platform and said that she wanted to remove that charm she had received from the witch-doctor. Right there in front of the crowd, she removed it and gave glory to God!
A woman, whose leg was swollen several times the normal size for three years, said that suddenly, during the prayer, the swelling went down. Her leg was completely normal.
An old woman who had been deaf for three months was healed.
A man who could not walk for the last 6 years was healed.
There were many other testimonies as well…too many to mention.
Please keep us in your prayers. The best is yet to come!
Blessings,
Evangelist Daniel Kolenda
Together with the whole CfaN team
My donation for the Campaign in Daloa