Here we have Evangelist Randy Roberts' (who ministered alongside Evangelist Joe Turnbull) report from the Christ for all Nations Operation Decapolis Campaign in Kigamboni, Tanzania.
"I greet you in the mighty name of Jesus from night two in Kigamboni! It's a miracle that I'm even writing this to you because this campaign in Kigamboni wasn't supposed to happen. We were originally only going to have 5 campaigns in Dar es Salaam, and this tiny "suburb" definitely was not going to be one of them. Kigamboni only has 25% of the next biggest campaign site population, so it didn't qualify. Maybe that's why I like it so much because I probably look like I don't qualify for what God is doing in me either!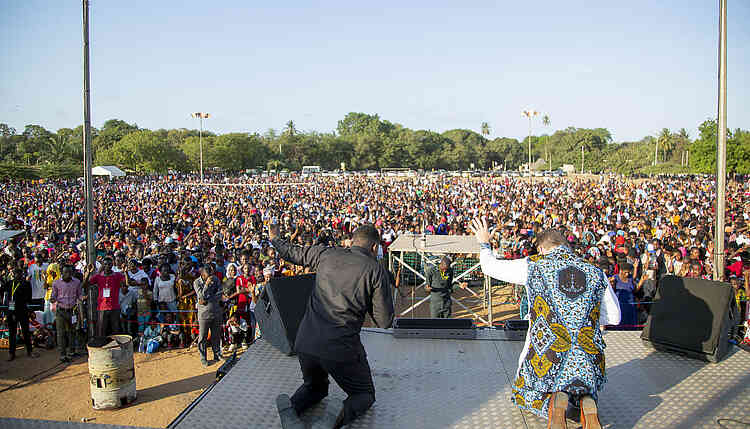 However, because of the prompting of the Lord and your generous support, as well as encouragement from Evangelist Daniel Kolenda to do more in this Decade of Double Harvest, we added the 6th campaign and have already seen countless healing miracles, many demons fleeing from the field with a shriek, and nearly 10,000 precious souls added to the kingdom of God. Hallelujah!
Would you like to hear about one of those miracles? I thought so…
Right before I began to preach tonight, out of Romans 10:13 (whosoever calls on the name of the Lord shall be saved), I had a brief conversation with Kai-Uwe Bonnke, and I asked him how he stayed faithful after so many years serving the ministry that his father started decades ago. His answer surprised me. He said that a few years back, CfaN began to do testimony videos of what God was doing during these massive gatherings. While filming these testimonies, he began to see how God was transforming individual lives as his father and Evangelist Daniel Kolenda preached the simple Gospel. So now he doesn't see the huge crowd, but each and every individual. I believe this is how our Father in heaven sees it as well.
This was in the front of my mind as I interviewed the precious mama in this picture. She had suffered from rheumatoid arthritis for years and was unable to do the simplest of tasks or even walk properly. So we wept together as we thanked our mighty King Jesus for what He had done. No more shuffling to the market, no more discouragement because she couldn't cook a simple meal for her family, and no more unfulfilled desires to pick up her grandchildren. One more individual among thousands changed by the preaching of the simple Gospel. All because you sent us, we preached the Gospel, she believed it, and "called on the name of the Lord".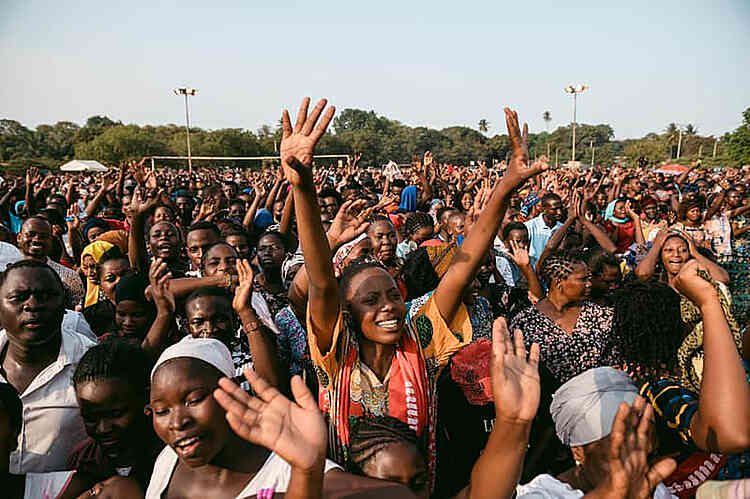 As we pulled onto the field for the final night, Joe and I rejoiced as we saw that the crowd was nearly double the size of the previous evening! We both instantly knew that the Harvest would be great this night.
The crowd was boisterous in their praise, and yet as I took the microphone, I felt led to quiet them and lead them in a time of thanksgiving for what our King had done in this small suburb of Dar es Salaam. I knelt and, along with tens of thousands of people, began to give Him heartfelt thanks.
Then it was time to preach. As I began to speak, I told the people that God would confirm His word with signs, wonders, and miracles. When I said this, I was thinking about healing miracles, but God does more than just healing miracles.
So that is the backdrop for when Nasibu came to testify. As I looked at the twenty-something-year-old man, I thought to myself, "He looks very healthy. God must have done an amazing miracle in him."
I asked Nasibu what had happened and what he said shocked the entire field of tens of thousands into silence. "I am from Mwanza (about 12 hours away), and I came to Dar es Salaam because I had heard about the 6 campaigns that were happening here, and I came here to steal from the people in the crowds. When I heard your message tonight, God changed my heart, and I've given my life to Jesus!"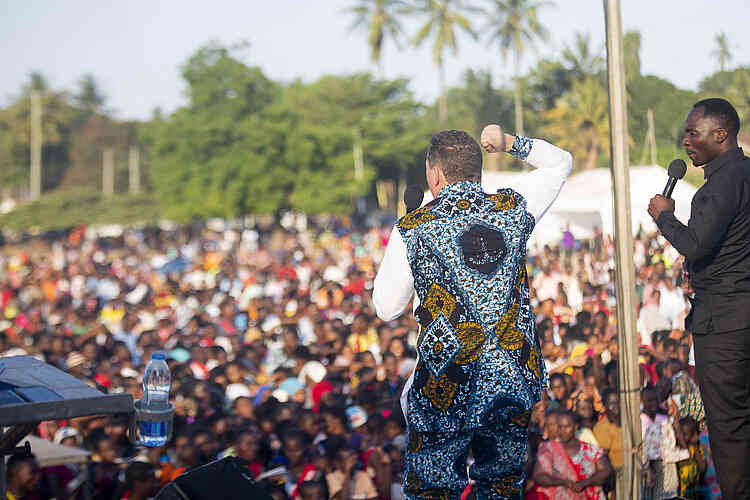 As you can imagine, the crowd no longer remained silent. They roared their approval at what our mighty Savior had done.
We saw many hundreds of healing miracles that night, but what has stuck with me is the miracle that changed Nasibu's heart from that of a thief into the heart of a righteous man.
Isn't God amazing? So often, the enemy tries to attack the preaching of the Gospel going forth at campaigns, such as witchdoctors coming to put a curse on it, or in this case, someone coming to steal. But when the Gospel is preached, lives are set free!
For I am not ashamed of the Gospel of Christ, for it is the power of God to salvation for everyone who believes, for the Jew first and also for the Greek. For in it, the righteousness of God is revealed from faith to faith; as it is written, "The just shall live by faith." Romans 1:16-17."
Thank you for your continued prayers and support! Soon we will have our massive Gospel Campaign in Ibadan, Nigeria, in just a few weeks – more details to come soon!
Together in the Harvest,
Daniel Kolenda
and the whole CfaN family