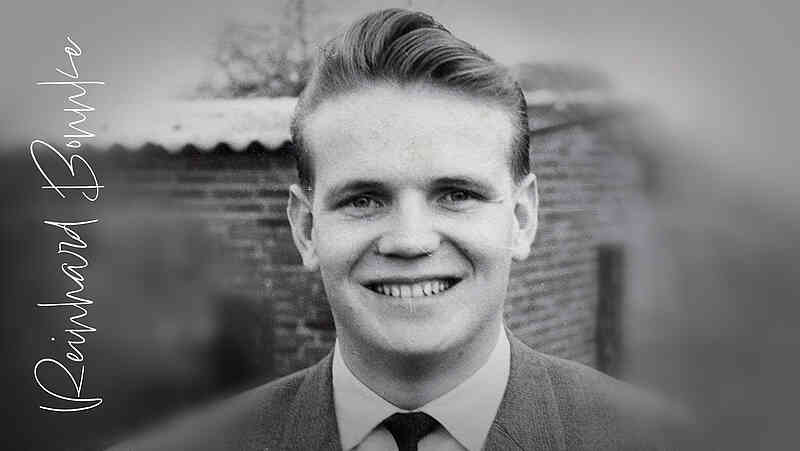 Testimony | Reinhard Bonnke
Learning to live by faith
When Reinhard Bonnke was a young man, he answered the call of God on his life. Leaving his home in Germany, he travelled to Wales to attend Swansea Bible College, known for its sound theology and emphasis on evangelism and missionary work. Despite his broken English in those early days, and without a cent to his name, he knew this was where the Lord had told him to get the training he needed. And the lessons he learnt there went far beyond theology…
The glory of the Swansea Bible College was that it forced us to live by faith. We prayed for everything. From the huge supply of winter coal necessary to heat our buildings, to the bus fare to take us street preaching on the weekends. The school supplied only food and lodging for us.
All the extras we were instructed to "pray in." And always, we were required to pray in secret without publicly mentioning our needs. This had been George Müller's legacy and the legacy of Rees Howells as well (founders of the college). Now Rees's son Samuel followed the faith path. I learned to embrace it.
Whenever a student or staff member saw their need met by the Lord, they would testify about it. These stories were meant to encourage the other students to live in complete dependence upon God. The phrase that was used when God met a need was, "I've been delivered."
Samuel Howells joined us in a student prayer meeting one morning not long after I arrived. Winter was knocking at the door. Night-time temperatures were plunging toward the freezing mark. He asked that we pray for several hundred pounds to buy coal to heat the classrooms and dormitories. This amount was needed by the end of the week. To me this seemed like a huge sum. I had never faced a need so large. Nor had I been forced to come up with such an amount so quickly. I joined my prayers with the others and waited to see what God would do.
At the end of the week Samuel returned to our prayer meeting. His eyes were
bright and his face beaming.
"Praise God! We've been delivered," he said.
I also want to be a man of faith
Right then, I prayed in my heart, Lord, I also want to be a man of faith. I want to see Your way of providing for needs.
Soon thereafter, a missionary visited the college. As he spoke, I heard the Lord speak in my heart to give all the money I had received from home. My parents and the church in Krempe and Glückstadt sent packages containing gifts and money to help me with expenses beyond room and board. This was all I had.
I agreed to give it, but then I decided to hold back one pound for emergencies. Just one pound, I reasoned. As I prepared to make the gift, I knew God had asked for all of my spending money. How would I know what He would do if I continued to hold back? I gave it all.
Time passed, and I had nearly forgotten about it. One Saturday, an invitation came asking me to minister on Sunshine Corner Beach near Swansea. This was a popular weekend gathering place for families. A local church had established a regular outreach to children there. I invited Teun de Ruiter, a fellow student from Holland, to accompany me. As we searched our pockets, we found that I had exactly enough bus fare to get us both there but no money to bring us back. We prayed and decided that we would put our faith to the test. We would go and believe God for the return fare.
We went. The ministry was fine. As we finished and returned to the bus stop, the pastor of the church came walking along the street. He recognized us and knew we had been ministering on the beach. I felt immediately that I was witnessing the deliverance God had planned for us.
"Hey boys, would you join me for a cup of tea?"
"We would love to," I said.
He took us to a local cafe near the beach, and we had several cups of tea and passed the time in pleasant conversation. When we finished, he called for the bill and opened his wallet to pay. I looked inside and saw more money than I could imagine. I began talking to God about it. I felt sure He had brought this man to us as our provision for the return trip. Surely God would move on him in his abundance to donate our return bus fare now. We would say nothing about it.

"Well, thank you for the tea," I said. "We must be going now. We have to catch
a bus back to school."
Lord, how will you provide?
This broad hint fell on deaf ears. He paid the bill, closed his wallet, and did not offer to pay for anything more. We smiled grimly at one another as he walked away, leaving us at the bus stop. The bus would soon arrive, and we had no fare. How would we make it? In my heart I prayed, "Lord, where is the fare? How will You provide?"
Just then, a woman who was leaving the beach area saw us at the stop. As the bus approached, she came running.
"Boys, here is a little something for you. Thank you so much for ministering on the beach today. I so appreciate it."
She grabbed my hand and pressed money into it, then walked away leaving us standing there. When I looked down and counted it, it was exactly enough for bus fare for both of us to return to school.
"Praise God, Teun! We've been delivered!"
God delights in surprising us
I felt that day like I was walking in the footsteps of George Müller and Rees Howells. More than that, I was learning something important about my relationship to my heavenly Father. It is never my job to second-guess His provision. He might use a preacher, a woman, a layman, a criminal, a saint, a natural disaster, a beggar – or He might tell me to take my fishing pole and look in the mouth of a fish for my bus fare. He is unlimited, and it is His delight to surprise us.
Most of all, I was beginning to learn that faith in God would take me places I would not otherwise go. It would produce results I would not otherwise see. Jesus said that with faith we could speak to a mountain and see it removed into the sea. I was not moving mountains yet, but with faith, my relationship to God had come alive. It was dynamic, making a difference in the world around me.
I decided to trust God
As the first year of school came to an end, I was praying one day and felt strongly that I should return home for the summer break. This feeling came in spite of the fact that I had no money to purchase the train fare. After praying more about it, I decided I would trust God to supply the money. I would not tell anyone of my need, but I would act as if the need was already met.
That day I went to a travel agent in Swansea and booked a reservation in advance. No deposit required. As the day of my departure approached, I received a packet from home. My heart rejoiced. I thought, this is it. I opened it thinking that the money I needed would be inside. It was not there.
The day of my booking arrived. I packed my bags. Still no money. I found my friend Teun and asked him to agree with me in prayer for the supply. We went into one of the empty classrooms and began praying. I did not feel our prayers were effective. As we continued, the words of a song came to mind.
"Teun, we've prayed enough. God has heard us. Let's sing together."
I led him in a song we often sang in Swansea. There is nothing too hard for Thee... I am trusting alone in Thee... It is never too late for Thee, dear Lord.
Suddenly I received the answer in my spirit. "The money is there, Teun."
"Where?"
Somehow I had received in my spirit the evidence of things not seen. "It is there. I don't know where. But it is there. Let's go get my bags."
We ran from the classroom and across the garden area. As we headed toward the narrow gate, a fellow student named Jim approached me. He was a final-year student, graduating that year. I did not know him well.
"You need money to travel home," he said. "I'd like to help. How much do you
need?"
"God knows how much. I will not say."
He also was a student of faith. He reached in his pocket and pulled out a wad of money, placing it in my hands. Then he abruptly turned and walked away. It was the last time I saw him as a Bible college student.
As Teun and I hurried to the travel agent's office, I counted it. Teun recounted it.
"Praise God, Reinhard! We've been delivered!" It was just the amount
needed for the fare.
The Sunshine Beach story and the train ticket story may seem small compared to other faith stories that came later in my life. But they may be the most important stories of all. In our life of faith we must begin small and graduate to greater challenges. In that respect, we are like the boy David. He first killed a lion and bear while protecting sheep, and then he was ready to kill Goliath, delivering his people from the Philistines.
And what was true for David is true for all. You have faith stories, too. No matter how small, remember them, recite them, count them, and celebrate them. They build your faith for what is coming next in your life.
Excerpt from: Living a Life of Fire, by Reinhard Bonnke