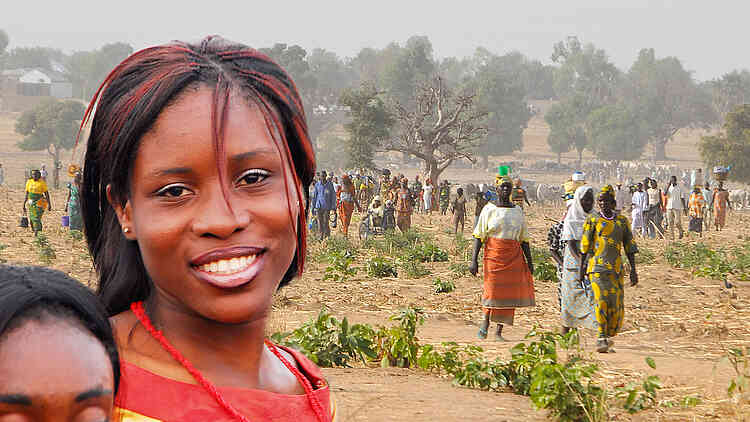 Congo
CfaN Campaign in Brazzaville
Brazzaville is the capital city of the Republic of the Congo, with well over 1.2 million residents. He city lies in the interior on the banks of the Pool Malebo, an enormous, sea-like expansion of the Congo River, the second-longest river in Africa. Kinshasa, the capital of the neighboring country, the Democratic Republic of Congo (Zaire, until 1997) lies directly on the opposite shore. Kinshasa has over 9.4 residents. The Kinshasa-Brazzaville conurbation is therefore the second-largest in Africa, after Lagos, and before Cairo.
The Republic of the Congo lies on both sides of the equator, and therefore has a typical tropical climate with two rainy seasons (January to May, and October to mid-December). More than half of the country is covered in tropical rain forests.
This country, which has a surface area of roughly the same size as Germany, is very thinly populated. There are just over 5 million Congolese people. Well over one fifth of the population lives in Brazzaville.
Even though most of the population describe themselves as Christian (with about 40% of them Catholic), there are widespread problems in Africa with the mixing of Biblical teaching with old, 'traditional' belief systems, ancestor worship and so on. Some sources state that over 40% of the population still believe in pagan animism.
A leftover from colonial times is the official language, which is French to this day. But during the founding of the Republic of the Congo, the indigenous languages Lingála (in the north) and Kituba (in the south) were recognized as official national languages of commerce.
Sometimes people ask us why we go to towns or regions where we've gone to preach the Gospel in the past. The answer is simple. It's been over 25 years since CfaN went to Brazzaville. And the population in Africa is exploding. There are so many children being born that the average age in these countries is astonishingly low. In the Republic of the Congo, it's only 16,8 years (in comparison: in France, it's about 40 and in Germany it's 45). That means that more than half of all the people there are children or teenagers. A completely new generation is growing up – and it's for them that the salvation message must be declared anew. That's what Jesus has called us to.