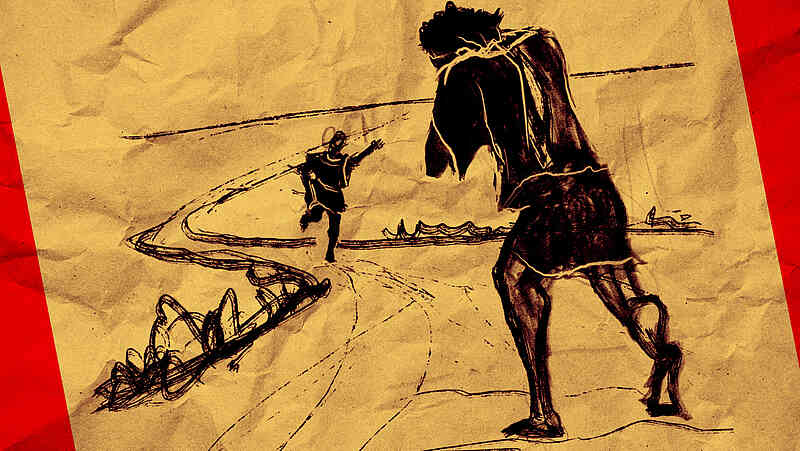 Easter
The parable that points to the cross
Today, as we approach our most important Christian festival – Easter – I want to share a little about "The Prodigal Son." Now, you may have heard the story of "The Prodigal Son" before. You might have heard it a thousand times. Maybe you grew up in the church and you know this story by heart. I want to challenge you just to keep reading for the next few minutes, because you are going to see something you have never seen before.
There was a man who had two sons. The younger one said to his father, 'Father, give me my share of the estate.' So he divided his property between them. Not long after that, the younger son got together all he had, set off for a distant country and there squandered his wealth in wild living. (Luke 15:11-13)
The younger brother in this story did something highly unusual. He basically said, "Father, I know you're not dead yet, but I can't wait any longer. I want my inheritance now." The father had no obligation to comply with this unreasonable demand, but surprisingly, he did as his son requested. He divided up his wealth and gave the rightful portion to his younger son.
A couple of days later, the son took all his money and left town. He went to the big city. Although the Bible doesn't go into detail about what he did there, it does say that he "squandered his wealth in wild living." He was living for the moment. Living for the day. What a terrible way to think and live! It is incredibly selfish and irresponsible, and it leads exactly where it led the prodigal son.
After he had spent everything, there was a severe famine in that whole country, and he began to be in need. So he went and hired himself out to a citizen of that country, who sent him to his fields to feed pigs. He longed to fill his stomach with the pods that the pigs were eating, but no one gave him anything. (Luke 15:14-16)
Hunger is a powerful motivator
This young man was destitute. His money was gone. His friends all left him. And, to make matters even worse, there was a famine in the land! This is where that sort of irresponsible lifestyle leads. Verse 14 says that he was "in need." You see, his selfish lifestyle left this young man empty and needy. After spending every penny, he was hungrier than ever before – and hunger is a powerful motivator. So, he had to find more and more ways to satisfy himself. His low point came when he was forced to take a terrible job – feeding pigs and living with the pigs in the pig pen.
Now, I know this sounds unappealing to everyone. But for a religious Jewish boy, living with the pigs was the ultimate picture of uncleanness and filth. He was in a very dark place – physically, financially, relationally, and spiritually. Not only was he living with the pigs. He was willing to eat the pig's food. But even then, he could not satisfy his hunger. Finally, after he had squandered everything that he had, he hit rock bottom and still was not satisfied!
I meet so many people who are in that pig pen, stuffing their bellies with the most vile things, trying to satisfy the deep longing in their hearts. But they are still lonely and desperate and dissatisfied. They are hungry for something no one has been able to give them.
How did I get here?
The prodigal son's journey was a downward spiral that seemed impossible to get out of until one day he woke up and thought, "How did this happen? How did I get here? Is there any help for me?" It is in this place – when people hit rock bottom – that they often look for a way out. Some people turn to drugs and alcohol. Some become murderous and hateful. Other people turn to suicide at this point.
How do I get out?
So, what should you do when you find yourself in this dark place? Well, the story of the prodigal son gives us the answer:
When he came to his senses, he said, 'How many of my father's hired servants have food to spare, and here I am starving to death! I will set out and go back to my father and say to him: Father, I have sinned against heaven and against you. I am no longer worthy to be called your son; make me like one of your hired servants.' So he got up and went to his father… (Luke 15:17-20a)
It says, "He came to his senses." This is the moment every person needs to have. A moment of clarity. A moment of sobriety. A moment where you think, "Wait a minute. What am I doing here? What have I become? There must be something better and something more than this in life!" And that's exactly what the prodigal son did. He decided he would humble himself and go back to his father. He would offer to become one of his father's hired servants.
The father longed for his son's return
This is my favorite part of the story. As that young man dragged himself home, he was dreading coming face to face with his father. He was so worried about how his father would react to his reckless, immature life. Meanwhile, the father sat on the front porch with his eyes strained in the direction where his son had gone. Every day, he sat there, hoping that one day his son would return. Finally, he saw the silhouette of his son appear on the horizon, and that old man could not contain himself. He got up and ran to welcome back his son!
But while he was still a long way off, his father saw him and was filled with compassion for him; he ran to his son, threw his arms around him and kissed him. (Luke 15:20b)
This is the scene depicted in that Rembrandt painting. The father is bending down with open hands to receive the son. What a beautiful picture of reconciliation, of acceptance, of forgiveness of grace and mercy! The father is not angry. He is not judgmental. He is a good father – full of compassion for the children he loves.
All the things the son had worried about so much were just a mirage. The father didn't rebuke him, punish him or send him to live with the servants. Every day that young man had been living in the pig pen, the father was sitting on the front porch waiting for him to come home! But that wasn't all. The father didn't just reluctantly take him back. He hugged him, he kissed him, and he showered him with gifts.
Who is this story really about?
Here is where I saw something I had never seen before. Normally the emphasis of this story is on the son. We call it the story of "The Prodigal Son" and yet, I don't think that Jesus intended for the emphasis to be on the son at all. All along, I think it was supposed to be about the father. Notice that when Jesus started the story (in verse 11) he didn't start by saying "There once was a son…" Instead, Jesus begins the story like this, "A certain man had two sons..." (emphasis mine). The story is not about the son – it is about the father!
I think Jesus intended to draw our attention to the father, who freely, extravagantly and yes, even recklessly, poured out his love and grace on his very undeserving son it's a story about the father's "Reckless Love."
One of my favorite Scriptures is Romans 8:32, "He that spared not his own Son, but delivered him up for us all, how shall he not with him also freely give us all things?" God freely, lavishly and selflessly gave the best He had for you. That is reckless love. If God would give His own Son for you, you can be sure that He is willing to give you anything and everything else that you need.
The cross was more than a symbol
This verse shows that the cross is the ultimate evidence of God's reckless love. At the cross, Jesus accepted the worst that humankind had to offer. He took the sins of the world upon Himself. And in return, He gave the best that God has to offer – forgiveness, humility, gentleness, generosity, faithfulness, truthfulness, salvation and love. But the cross was more than a symbol; it is the very means whereby God is able to extend mercy and justice while remaining completely righteous. You see, if God had simply ignored our sin, that would have been unjust. But, if we all received the justice we deserve, we would all be damned. Instead, Jesus took our punishment upon Himself (justice) and offers us forgiveness and peace with God on His account (mercy).
As my mentor, Reinhard Bonnke wrote regarding the cross of Christ:
The Logo of Hope
Jesus, the carpenter of Nazareth, turned the wood of the cross into the door to life. That is the deep heart of the good news — the cross has the power to transform us. Minus is turned to plus, negative to positive. On the cross, darkness changes to light, death to life, hate to love, chains to freedom, fear to faith, despair to joy, brokenness to wholeness, hell to heaven.
The Logo of Triumph
Jesus is still alive! He is here today to reverse every curse and to cancel Satan's evil work. Sinners are forgiven. The sick are made well. Broken relationships are restored. Against the power of Jesus on the cross, the forces of evil are finally defeated.
The Logo of Help
This is why the cross is the symbol or logo of the Christian faith. It belongs to Jesus alone. No founder or leader of another religion would dare to use this logo because it stands for something that they themselves have never done! None of them have been crucified for the sins of the world. None of them have been raised from the dead. None of them can give us the help we so desperately need.
Jesus wasn't just telling a parable about some random Jewish boy – He was telling the story of us. It's an invitation to insert yourself into the greatest drama of all time. Wherever you find yourself today – if you are in a faraway land, if you are trying to fill your soul with things that don't satisfy, if you are living with the pigs or longing for home – today is your day. I pray you would have that moment of clarity as the prodigal son had in the pig sty – that you would come to yourself and realize, you don't have to live this way anymore.
No matter where you are right now, no matter how far you've wandered or how lost you feel, you can come home today! The Bible says there are two things you need to do – repent and believe the Gospel (Mark 1:15).
Repent
To repent means to turn around. The prodigal son had to change his direction – to stop walking away from his father and start walking toward home. Go home!
Believe
To believe is not simply to agree. In the Biblical context it means to fully trust. When the prodigal son returned home, he had nothing to offer his father except himself. It is only in this condition that we can come to God. He only receives those who realize they have nothing to offer but themselves. Those that think they are worthy are disqualified. We cannot earn salvation. We can only receive it as a free gift.
"For it is by grace you have been saved, through faith—and this is not from yourselves, it is the gift of God— not by works, so that no one can boast"(Ephesians 2:8-9).
May you know the fulness of God's reckless love this Easter!
Yours in the harvest,
Evangelist Daniel Kolenda
(with the whole CfaN team)