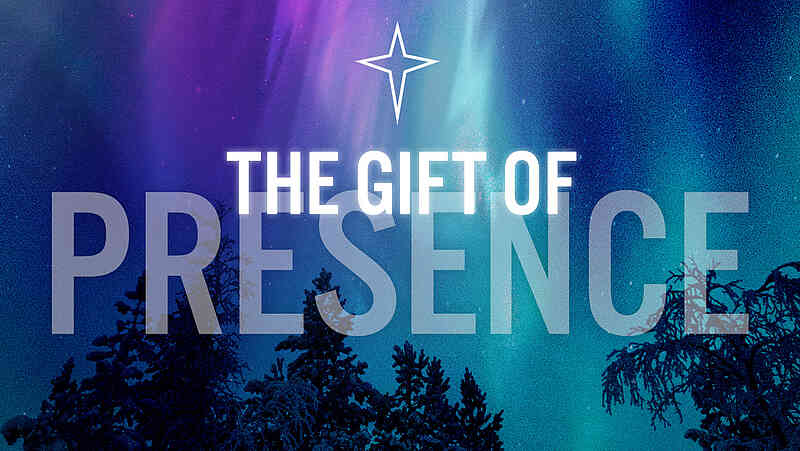 Bible Study
The Gift of Presence
When we celebrate Advent, we celebrate the truth of all truths. We call to mind the core teaching of the everlasting gospel and the most transformative event in the history of the world. Simply put, we celebrate the Incarnation, when God's eternal Son became a human being and lived among us. Our finite minds can hardly grasp the grandeur of this statement—its mystery, its glory, its grace.
Could there be a more perfect person than Jesus Christ? Can there be any other foundation to our salvation? The Word who "became flesh" reigns over every religion and philosophy as the perfection of truth. It is the heart and soul of our gospel.
The Incarnation's magnificence should stun us into silent awe. It should also ignite us into burning adoration. Yet we can become so ensnared by the secularization of Christmas, or get so familiar with the biblical story that we lose sight of the wonder—the sheer impossibility that abides right at the center of our faith.
Pause and think about this for a moment. By the Holy Spirit, the pre existent Son of God came into the womb of a young virgin. He experienced humanity on every possible level, from conception to death and everything in between. But He also remained the person He had always been from eternity. His divine nature did not conflict with His human nature. Nor did the human clash with the divine. Somehow these two realities blended to perfection in a young Galilean known as "Yeshua."
It's as if God designed humans so He could one day become one of them. What can we say to these things? The Sovereign Creator became part of His creation. The Judge of the earth laughed with friends and played in the streets of Nazareth. The Giver of Life died on a cross and rose again from the grave…all as a human being.
But this is what I really want us to see. It's not just that Jesus was both divine and human. It's why He was both divine and human. The Incarnation occurred for a specific reason. God wanted to give us the ultimate gift. He wanted to give us Himself. He wanted to give us His presence. The very word "Advent" refers to Christ's coming or presence. When Isaiah prophesies that a virgin would be with child and bear a son, he also prophesies the son's name: Immanuel, which means God with us (Isaiah 7:14). When John proclaims that the Word became flesh, he also proclaims that He dwelt among us (John 1:14). Both writers give the full message. God's Son became human for the express purpose of being with us. That is the "Gospel of Christmas". It's about the Presence.
God's human presence is the foundation of our faith. He could not save us unless He first came to us as a man. But presence is not just the foundation of our faith. It is also the goal of our faith. We were saved by His presence, for the Presence. God saved us so He could give us Himself. The incarnate Son atoned for our sins and rose to new life so we could forever be present to one another in eternal fellowship.
There's nothing like "presence." It's a powerful, exquisite word. True presence is the opposite of absence. Presence evokes deep feelings of love, friendship, fellowship, and intimacy. It speaks of belonging and closeness. It touches the deepest places of our souls where we need family connection with God Himself. So, the gospel embedded in Christmas declares that God recognized this need, and gave Himself to fill it.
Our hearts yearn for presence. Ironically, our digital world has done much both to connect us as well as isolate us. On the one hand, technology allows us to be more present to people even when we're far away. Social media and video calls actually enable us to connect even when we are separated by time zones. That's a wonderful gift.
On the other hand, technology can become a substitute for actual presence. God designed humans to live where our bodies actually are, not merely on cyberspace. We need physical proximity. An image can be a temporary provision, but it is not the reality itself. We must be physically near one another. We must be physically near God. He could not afford to send an angel or text message. He had to come in person. There is simply no substitute for presence.
Physical nearness creates an emotional warmth that we need. God designed us for presence with other humans. How much more has He designed us for presence with Him! Listen to John's testimony about the years he spent with Jesus: "That which was from the beginning, which we have heard, which we have seen with our eyes, which we have looked upon, and our hands have handled, concerning the Word of life"(1 John 1:1 NKJV). Notice how John took care to explain the full range of presence: hearing, seeing, looking intently, and touching. Jesus was totally present with His disciples. John's witness to Jesus flowed out of a mutual fellowship that could not be replaced by anything.
Consider Jesus' own teaching: "Where two or three are gathered together in My name, I am there in the midst of them" (Matthew 18:20 NKJV). It doesn't get any clearer than that. Jesus refers to a literal location, and a physical meeting and He refers to His own physical presence in that specific location. His presence in our gatherings depends partly on our presence to one another! Presence invites Presence. There's no substitute for the Presence.
The whole story of the Bible is about God's manifest Presence. In the beginning, Genesis tells us that the Lord was "walking in the garden in the cool of the day" (Genesis 3:8). He was physically present and longed for fellowship with His children (Genesis 3:9). Then at the end, Revelation tells us the goal of all history: "Look! God's home is now among his people! He will live with them…" (Revelation 21:3 NLT). At the beginning, end, and everywhere in between, we read about Presence.
God's whole plan for the world centers on His Presence. It's the message of the Bible, and the heart of the gospel. That is why it's so important to push past the frenzy of commercialism and discern the purpose of Advent. Don't let the world dilute the purity of the season. Christmas embodies the gospel message: God became human and made a way for us to come to Him. Now those who believe the gospel have His Presence again in the Holy Spirit. The "Gospel of Christmas" declares the whole story of the Presence.
The Presence Loves
God came into the world, alive and in person, because of His undying love for us. We sometimes forget this simple truth. But the Incarnation proves that God loves us deeply. When God loves, He makes a covenant. His love is not a temporary love that fizzles when times get tough or His needs are not met. No, God's love is eternal. It compels Him to bind Himself to His beloved forever. Part of such a covenant is His promise to give Himself to us as the Presence. "I will dwell in them and walk among them. I will be their God, and they shall be My people"(2 Corinthians 6:16 NASB).
Even throughout the Old Testament, God's love drove Him to come near His people. His fellowship with men like Abraham and Moses must have been too holy to behold. Yahweh appeared in human form to Abraham (Genesis 18:1-2), and was physically present to Moses in the cloud and on the mountain (Exodus 33:9-11,19-23; 34:1-9). What extraordinary moments! Yahweh longed to spend time with His children in person, just as He did in the Garden of Eden.
Yet even these glorious moments were provisional manifestations. God promised that, one day, He would dwell permanently among His people. Before that, there were limits to the Presence. Moses begged to see God's glory, but he could not (Exodus 33:18-20). A veil separated the Holy of Holies from the Holy Place. And only the priests could go in to minister. There were restrictions to the Presence.
But when the fullness of time came, all barriers were torn down. God the Son came in the flesh and "we saw His glory, glory as of the only begotten from the Father, full of grace and truth" (John 1:14 NASB). The disciples saw what Moses begged to see. God finally fulfilled His covenant of love. He became present to His people as one of us.
The Presence Sacrifices
But that was not enough. The Son did not become human to live here for thirty-three years and then leave. God's burning, covenantal love would not be satisfied with mere visitation. He longed for habitation. He wanted to create a scenario where we could be joined together forever. He had to do that, however, at His own expense. Jesus, the incarnate Son of God, came as a human so He could die and shed His precious blood. The sin that separated us and made us orphans could only be washed away by that divine-human blood (Acts 20:28). The Presence had to die.
We do not normally think of Presence in terms of suffering and sacrifice. For Jesus' Jewish disciples, presence meant something quite positive. It meant the Messiah would come, overthrow Israel's enemies, establish God's Kingdom on earth, and rededicate the temple. Then God would dwell among His people in unsurpassed glory. They did not expect the Presence to be beaten and murdered on a cross.
Likewise, we charismatics think of presence in terms of an atmosphere of sweetness, weeping, laughter, healing, or signs and wonders. We speak of the air suffused with God's palpable glory. We envision a meeting with exhilaration, worship, and joy. And we should.
But to fulfill the purpose of Advent, the Presence also had to walk through darkness. How could we be delivered from death, eternal separation, unless the Presence went there on our behalf? So yes, the Son of God's Presence meant fellowship with His people. But it also meant rejection and death. Otherwise He would only have been able to visit. Then He would be isolated from us forever, which is the very opposite of presence.
The body that housed the eternal Son of God died a brutal death on the Cross. But that Man has been raised from the dead and glorified. He now remains in a glorified human body forever. Yet even that glorified body—His eternal, human tent—bears scars. Those scars remind us of the Christmas Gospel. The Presence suffered death to deliver us from sin. Now we can have the Presence forever.
The Presence Abides
Advent celebrates the incarnate Presence who came to die. But it should also celebrate the Spirit's Presence who came to abide. The first Presence paved the way for the second Presence. The incarnate God came into the world. But the abiding God came into our hearts. To me, this truth should be as much a part of our Advent reflection as the Incarnation. I know there is a separate day on the calendar to celebrate Pentecost. But I'm not concerned so much with the calendar as I am with the Presence.
The Son of God became human so He could die and give us the Holy Spirit. It's not enough for us to talk about the facts of God's historical presence. We must also commit ourselves to be people of the abiding Presence! Talk is cheap. The Holy Spirit Presence in us desires to express Himself through us. To me, this is the ultimate meaning of Advent. Why should we recount the facts of Advent, but not demonstrate the abiding Presence of Advent?
To be Spirit-filled people is to be people marked by the Presence. Truly born again, Pentecostal and Charismatic people should celebrate the Advent season in all its fullness. The Christian church is unique among all people and religions. It consists of humans, but not only humans. God Himself is present in the church by the Spirit. The church is the people of the Presence. "Do you not know that you are the temple of God and that the Spirit of God dwells in you?" (1 Corinthians 3:16 NKJV).
Listen to the Lord's conversation with Moses:
"My Presence will go with you, and I will give you rest." Then he [Moses] said to Him, "If Your Presence does not go with us, do not bring us up from here. For how then will it be known that Your people and I have found grace in Your sight, except You go with us? So we shall be separate, Your people and I, from all the people who are upon the face of the earth" (Exodus 33:14-16 NKJV).
We should operate from the same conviction.
The Presence is the single element that distinguishes us from everyone else. That is why the Bible issues these commands to "Walk by the Spirit… Be filled with the Spirit… Pray in the Spirit… Worship in the Spirit" (Galatians 5:16; Ephesians 5:18; 6:18; John 4:24; Philippians 3:3). As the temple of the Holy Spirit, we should be intentional to obey these scriptural commands.
You and I are called to fellowship with the Holy Spirit. We have the power to pray in other tongues. Scripture instructs us to lay our hands on the sick in Jesus' name, and they will be healed. We can develop the Spirit's holy character and bear His Christlike fruit. When we gather together, God enables us to prophesy to one another. These are marks of the Presence that make us incandescent.
Advent is not just an event; it is our experience. Let's act like it. In the spirit of the Christmas season, let's be people of the Presence.
Evangelist Daniel Kolenda