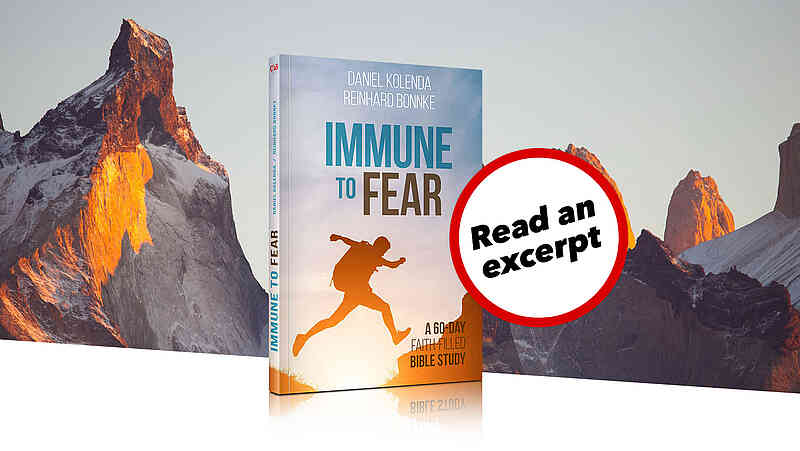 Book Launch
Immune to Fear
From the new release "Immune to Fear" by Daniel Kolenda and Reinhard Bonnke
Faith without questions or qualifiers!
Fear and unbelief are not intellectual responses, but emotional responses of the heart from a lack of faith in God. Meaning the root of unbelief isn't in the mind, but in the heart.
Unfortunately, "faith" has become a religious generalization. Authentic faith is accepting the credibility of God – "He who promised is faithful" (Heb. 10:23). Faith means we leave things up to Jesus, step out in trust, and obey Him at His word. "Trust in the Lord," is a foundational biblical principle, and that should be followed by the attitude, "Though He slay me, yet will I trust Him" (Job 13:15).
Jesus expects us to trust Him with this kind of attitude and response. How do we know this? Well, He made the most striking statement in the book of Luke: "They will put some of you to death. And you will be hated by all for my name's sake. But not a hair of your head shall be lost" (Luke 21:16–18).
Do you really trust God?
He expects our trust no matter what the outcome. Faith is not merely showing approval for Scripture or being an expert on doctrine. We can be biblically correct, but void of any real trust in God. Faith is childlike trust in Jesus and full surrender of our lives to Him. For example, putting qualifiers on prayers like, "I'll believe in You, God, if You answer this prayer," shows a gross ignorance of the whole understanding of what faith is.
You see, God does not always do what we think He should do. In fact, that is why we have to trust Him! If He always answered every prayer in the way and timing we wanted, faith would not be necessary. Also, we must remember that God is God, and we are not. If we demand to know why God does or does not do something as a condition for our trust, then we do not have true faith. God accepts no terms for our trust in Him. He is the creator of the Universe! He does not conform to the pattern of our small thinking in order to convince us to believe. If we do not believe, it is always our loss, not His. May we never doubt in God or in His goodness towards us.
Hebrews 11:6 says, "And without faith it is impossible to please Him, for whoever would draw near to God must believe that He exists and that He rewards those who diligently seek Him."
Also, Psalms 34:8 says, "Oh, taste and see that the Lord is good; blessed is the man who trusts in Him!" When we fully believe that He exists, He is good, and He loves us, all the qualifiers and questions fall away.
Like a child in the arms of his father, we are able to find rest for our souls. "He who dwells in the shelter of the Most High will abide in the shadow of the Almighty. I will say to the Lord, 'My refuge and my fortress, my God, in whom I trust.'" (Psalm 91:1-2)
The fear of the Lord
In the Bible we learn some fear is good and some is bad. The books of Psalms and Proverbs speak of "the fear of the Lord" as a virtue fourteen times! "The fear of the Lord is the beginning of wisdom"(Psalm 111:10), "a fountain of life" (Proverbs 14:27),and "riches and honor and life" (Proverbs 22:4). Yet 1 John 4:18 says, "Fear involves torment. But he who fears has not been made perfect in love." In Exodus 20:20, we find both aspects: "Do not fear; for God has come to test you, and that His fear may be before you, so that you may not sin."
How can fear be both good and bad? The answer depends on what or whom we fear. To fear God is a wholesome attitude! When we fear the devil, it is a sign we do not fear God, which means we have no faith in God. In fact, to fear Satan is to have faith in Satan! However, when we fear the Lord, we are essentially saying, "Ultimately Lord, You are in control. Therefore, my life is in Your capable hands, and I submit to You!"
Stay aligned with the truth
On the other hand, to fear Satan, is to believe he's in control, your life is in his hands and you submit to him… May it never be so! Having the fear of the Lord keeps unhealthy worries from growing into monstrous trepidations, because it reveals to us Jesus' supreme position as King of Kings and Lord of Lords. The fear of the Lord keeps us in alignment with the truth! Satan would delight in nothing more, than for your perspective of divine supremacy to get twisted. He wants your focus to get off of the Lord, and onto Him.
The devil would love for you to believe that he calls all the shots and your life is susceptible to his plans for your destruction. But Jesus defeated him once and for all on the cross! Hallelujah! The finished work of the cross is not only a sign of the Lord's victory over Satan – but your victory over him as well! Be encouraged! Proverbs 19:23 says, "The fear of the Lord leads to life, so that one may sleep satisfied, untouched by evil." Those who have the good fear – the fear of the Lord, are untouchable!
A weapon against fear
Purpose is a powerful weapon against fear. What gave thousands of young men the courage to storm the beaches of Normandy on June 6, 1944, also known as D-Day? They were fortified by purpose – to confront and conquer a great evil. In our lives we will find the same truth. When we are living with great purpose, we are filled with courage. If we can remember that time is short and, as Christians, we have been entrusted with a heavenly assignment – to storm the gates of Hell, to win the lost and to set the captives free – this purpose will fill us with courage.
"Little children, it is the last hour" (1 John 2:18). I know it seems that this hour has lasted for a very long time. John wrote those words over nineteen centuries ago. Do not let that observation confuse you. We can be certain of one thing—if it was the last hour then, it most certainly is now! If John were writing today, he probably would write, "Little children, it is the last second of the last minute of the last hour."
Most people live as if this life were a permanent arrangement. Often, it is only in the face of a crisis or a calamity that they are awakened to the fact that their days are numbered. "A person's days are determined; you have decreed the number of his months and have set limits he cannot exceed" (Job 14:5).
It is always the last hour
Our days are numbered. There is actually only time for the important things. I am thinking about the church of Jesus Christ in particular. People often point out that life consists of a thousand details, but the minor must not outweigh the major. The church is to concern itself with one aim – to live on fire for Jesus and campaign for souls. When Scripture proclaims, "It is the last hour," it truly is. For the message of the Gospel, it is always the last hour. This unique, special doctrine of Scripture is called "imminence."
Many sit back and relax, thinking that there are still four months to the harvest (John 4:35). If you want to know how a single individual like Paul did so much, read his open letter to the Corinthians. He lived as if the end of all things was at hand, as if the final curtain was always imminent. "But this I say, brethren, the time is short, so that from now on even those who have wives should be as though they had none, those who weep, as though they did not weep, those who rejoice as though they did not rejoice, those who buy as though they did not possess, and those who use this world, as not misusing it. For the form of this world is passing away" (1 Corinthians 7:29-31).
The Gospel is eternal, but we do not have eternity to preach it. It seems as though we have that long when we view the leisurely operations of the church on the Gospel front. We have only as long as we live to reach those who live as long as we live. Today, nearly eight billion souls are alive on this planet. They are not in a future age that will need to be evangelized, but present and living now on earth. It is the last hour.
Luke 21:11 says, "There will be great earthquakes, and in various places famines and pestilences. And there will be terrors and great signs from heaven." So, what then will we do as the clock races towards the end and chaos, terror, famines and plagues increase in the earth? We can busy ourselves with the fear that the media sells us, focusing inward on frantically preserving our lives and our interests, OR we can busy ourselves with the great commission, focusing outward, forsaking our lives and our interests for the sake of the Gospel being preached throughout the earth! We can choose to be paralyzed in fear, or be about the Father's business, faithfully advancing His kingdom in whichever ways we are able.
Today is the day of salvation!
Right now, you may not see yourself in a position to do much for the Lord. But that is exactly what the enemy of your soul wants you to believe! Satan would love for the church to believe that the proclamation of the Gospel and the ministry of Jesus Christ is on. But that couldn't be further from the truth! Jesus is always two steps ahead of Satan and three on Sunday. In fact, the advancement of the kingdom of God is only picking up the pace!
We have so much more connection right now to our families and loved ones through the modern technologies we have today. The field is ripe for harvest! I encourage you to ask the Lord how you can be on active duty in the Gospel brigade today. There may be someone sitting under your own roof that needs to know the love of Jesus. There may be a friend or a relative that you haven't had time to catch up with lately – now is the time for that phone call! Today is the day of salvation!