Friday, 4 December 2015
Curses Broken!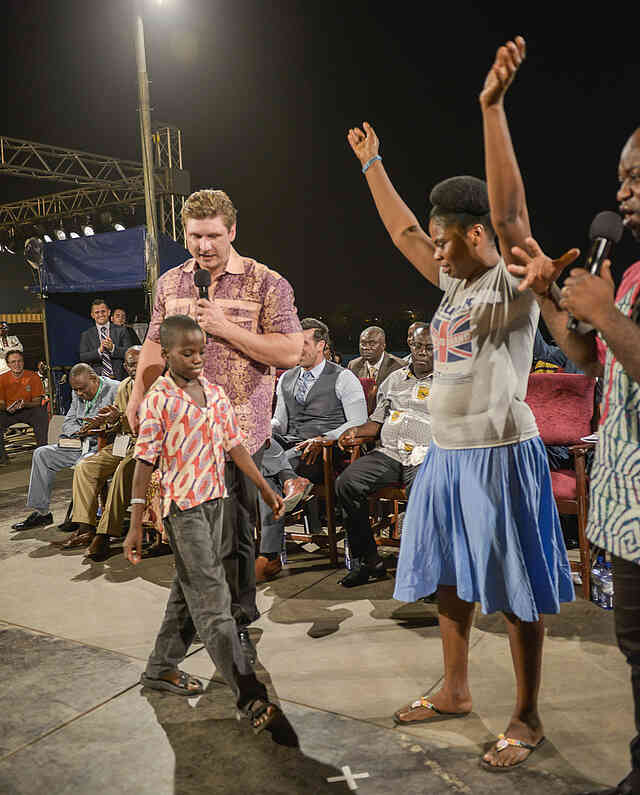 I have just returned from the campaign field here in Ashaiman and Tema, Ghana where 120,000 people were in attendance – and it's only the second day. I preached on the blood of Jesus before we saw the demonstration of that power – curses broken, sicknesses healed and many people delivered.
A woman who was paralyzed on the left side from a stroke, received a total healing.
A man who was hunched over, unable to walk upright without excruciating pain, was brought to the meeting tonight in a taxi. Jesus touched him. All pain left. He walked upright for the first time in over a year.
A young boy whose sickness left him paralyzed and partially blind was made perfectly well tonight. He walked on the platform without even a limp and said his vision had returned to normal. All sickness was gone. (See the picture)
A woman who suffered from painful ulcers said that as we prayed yesterday, she felt a sensation like ice going through her body and suddenly all the pain was gone. She didn't give her testimony yesterday because she wanted to wait and see if the pain would return, but for the first time in two years the pain did not return. Hallelujah!
This morning our Fire Conference continued to build momentum as Rev. Peter van den Berg and Rev. Brian Guerin ministered powerful words to the pastors and church workers. They were greatly encouraged and very hungry. Tomorrow we will pray for them to receive the Baptism into the Holy Spirit and fire!
There are now only two more days of harvest ahead of us here. Thank you for continuing to pray for us earnestly. Many souls are in the balance.
Yours in the Harvest,
Evangelist Daniel Kolenda
Together with Reinhard Bonnke, Peter van den Berg and the whole CfaN team