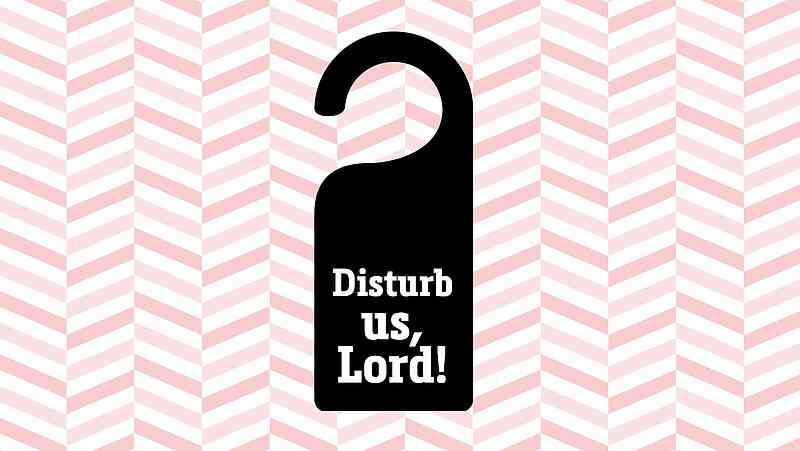 Bible Study
Disturb us, Lord!
The pounding at the door seemed to rattle the entire house just before the foot of an impatient Roman soldier kicked it from its hinges. Peter was still in bed and half asleep when the guards grabbed him and hauled him out into the dusty Jerusalem streets where a prison wagon was waiting. Roughly, they thrust him into the crowded carriage ribbed with iron bars and there, in the faint light of early dawn, Peter recognized the tired faces of his fellow inmates. It was his friends: Andrew, James, John, Philip, Thomas, Matthew, James (the son of Alphaeus), Thaddeus, Simon, Matthias, and Bartholomew the other apostles of the Lamb and the original founders of the Church.
The high priest had exercised his political power and commanded that these disciples of Jesus be rounded up like ordinary criminals to be incarcerated in a common prison. But with the evening would come an extraordinary miracle. Acts 5:19 says, "But the angel of Lord by night opened the prison doors, and brought them forth." What a glorious deliverance! What an incredible testimony! God had demonstrated His power once again, and these early followers of Jesus must have felt invincible.
A lethal enemy
I think what happened next is typical of human nature. It would appear that in the midst of great victories, a sleepy cloud of complacency had dulled some of the believers' spiritual senses. In Acts 12 we read that the persecution against the Church continued. But this time it was Herod who had initiated the arrest and instead of seizing all the apostles at once, he started with just one – James, the brother of John. Everyone assumed that James would be fine. After all, God had delivered the apostles from prison once before, and surely He would do it again … or would He? We read of no prayer meetings, no vigils, and no intercession.
All was well and no one was concerned until the tranquility was shattered and the Church was devastated by the dreadful news: James was dead, executed at the hands of the wicked ruler. Complacency is one of the most dangerous enemies of the believer because it is so easy to fall into and, like a vivid dream, it is very difficult to detect in our own lives before we are rudely awakened. God is so good and faithful to us in His mercy. But it is easy to take His faithfulness for granted in the good times and confuse presumption for faith.
Someone once said, "Complacency is a blight that saps energy, dulls attitudes, and causes a drain on the brain. The first symptom is satisfaction with things as they are. The second is rejection of things as they might be. "Good enough" becomes today's watchword and tomorrow's standard. Complacency makes people fear the unknown, mistrust the untried, and abhor the new. Like water, complacent people follow the easiest course – downhill. They draw false strength from looking back."
In nations, in individuals, in families, and in business, complacency has the same effect; it is the enemy of victory and the ally of defeat. In no other area is complacency so lethal as in the prayer life – especially when everything is going well.
Utter Dependence
I must have prayed for weeks before I preached my first sermon at 14 years of age. I pleaded for God's help and blessing, knowing that without it I would be a miserable failure. Today I often preach more than twelve times in a single week. I no longer feel nervous, even when preaching to crowds of hundreds of thousands, and therein lies the danger. Although I feel comfortable and confident behind the pulpit, I must continually remind myself that my sense of security is just an illusion. I could preach the most articulate sermon with the most extraordinary delivery, but I would still be a miserable failure without the blessing of the Lord.
I find that the more secure we feel, the more danger we are in, because it is in comfort that we can so easily forget our utter need for God. That's why, before I get up to preach, I pray the prayer that used to be said in the classrooms of America before prosperity made her apathetic towards the very One who had so blessed her: "Almighty God, I acknowledge my utter dependence upon You and beg for Your blessing." It is this awareness of our complete dependence upon God that will make us diligent in prayer.
If you lack this consciousness in your life, chances are you are sleepwalking through the perilous wilds of complacency. "Wake up o sleeper, rise from the dead, and Christ will shine on you." (Ephesians 5:14)
Complacency is the enemy of victory and the ally of defeat.
In Amos 6:1, the prophet declares, "Woe to those who are at ease in Zion, and to those on the mountain of Samaria who are careless and feel secure." The children of Israel had grown apathetic in their prosperity and comfort. They had lost their sense of urgency and were not concerned about the things of God. But their perceived security was a myth. The mercy of God that held back disaster was stretched to the limit, and in verse 7, God says the party is over! "Therefore, they will now go into exile at the head of the exiles, and the sprawlers' banqueting will pass away."
Only after disaster had struck and the nation found itself in the chains of captivity did it turn to the Lord again. God forbid that we should have to be shaken out of our complacency by tragedy or disaster. How much better it would be if we would remain vigilant in prayer, recognizing that even in the good times, "your adversary the devil, as a roaring lion, walketh about, seeking whom he may devour" (1 Peter 5:8).
Disturb us, Lord!
In 1577 Sir Francis Drake wrote: "Disturb us, Lord, when we are too pleased with ourselves…" Everybody seems to want "revival", thinking it is a pleasant and enjoyable experience. But to be revived is to be shaken out of a state of slumber, to be jolted out of apathetic complacency, to be alarmed, awakened, and startled. Too many churches praying for revival have a "Do not disturb" sign hanging on the door. Revival that fits neatly into a comfortable cradle is not revival at all. Instead of praying for revival, perhaps we should pray with Sir Francis Drake, "Disturb us, Lord!" Powerful prayer begins where complacency ends.
"Therefore let us not sleep, as do others; but let us watch and be sober."
1 Thessalonians 5:6
Too many churches praying for revival have a "Do not disturb" sign hanging on the door.
Once James had been murdered, Herod's religious Jewish contingent was thrilled with his initiative and applauded him. Suddenly he saw an easy way to gain favor with a party that had always given him such opposition. Acts 12:3 says, "When he [Herod] saw that it was pleasing to the Jews, he proceeded further and arrested Peter also."
This time things would be very different. The tragedy of James' death had shaken the believers to the core and all potluck dinners were cancelled – it was time to pray. The Scripture is careful to preface the story of Peter's deliverance with the following statement:
"[fervent] prayer was made without ceasing of the church unto God for him" (Acts 12:5).
Fervent and persistent prayers
This statement is very significant, because the writer of Acts is trying to show us that the miraculous deliverance to follow would be a direct result of those fervent and persistent prayers that were offered up by the believers. It was the last night of Passover week and Peter was chained between two menacing soldiers. This was to be his last night on earth, for in the morning he would be executed as James had been just a few days earlier. But the Bible says that "suddenly" a light from heaven illuminated that gloomy prison house as an angel of the Lord appeared in his cell. He smacked Peter on the side and said, "Get up quickly!" An interesting fact is found in Acts 12:7. It tells us that Peter's chains, "fell off from his hands"!
Notice that it does not say that the angel broke the chains off Peter's hands, but simply that they fell off.
The angel said to Peter, "Put your clothes on and follow me." They walked past the first set of guards who didn't notice him. They walked past the second set of guards who also seemed oblivious to his escape. Then they approached the most obstructive barrier of all – a huge iron gate that separated the prison from the street. This gate was designed to protect the outside world from the dangerous criminals it confined. It was an obstacle that seemed totally insurmountable, but Peter was not worried – he thought it was just a dream anyway.
You will notice that verse 10 says that when they reached the gate, it "opened to them of his own accord: and they went out, and passed on through one street." Only then did the angel vanish, and suddenly Peter realized that it was not a vision. He had actually been delivered!
The invisible Hand
Can you see the theme that is emerging here? In the story, every obstacle, every barrier, and every obstruction is completely impotent. The chains fell from Peter's hands, the guards could not see him escaping, and finally the iron door opened and the most amazing part is that all of this seems to have happened almost by itself. Although a mighty angel is sent to escort Peter out of the prison, the angel does not touch the chains, the guards, or the doors – they seem to be impacted by an invisible hand.
Prayer that opens Doors
We see very clearly from what is emphasized in verse 5 that it is because of the prayers of the saints that all this is happening. "[Fervent] prayer was made without ceasing of the church unto God for him." The prayers of the believers were the power that loosed the chains, removed the obstructions, and opened even the most impenetrable doors.
I wonder how many Christians are suffering today because they didn't trust in and seek the Lord in the midst of their trial. Faith often seems like the more difficult option. It is so much easier to trust a lawyer, a doctor, a colleague, a counselor or even our own selves. But after trusting in all of these other things, so many people find themselves given over to the very thing that they fear and in that moment they cry, "Why God!?" Don't wait until your wheels have fallen off before you cry out to the Lord. Seek the Lord while He may be found and call on Him when He is near. (Isaiah 55:6).
Excerpt from: Unlocking the Miraculous by Daniel Kolenda