Day 1
Salvation at the Governor's mansion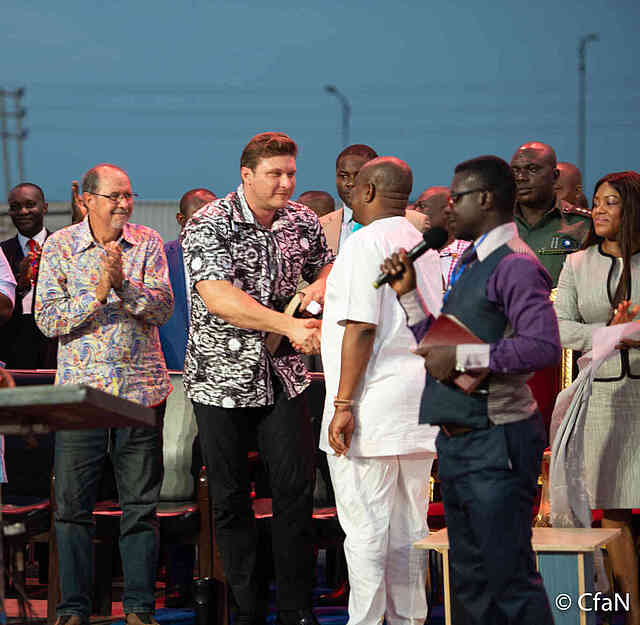 From Evangelist Daniel Kolenda:
Yesterday morning, I had the privilege of visiting the Governor of River State (where we are currently) together with Peter Vandenberg. The chamber was filled with state officials and leaders. I preached a clear Gospel message, invited them to receive Christ and several responded! Then, with media present, the Governor encouraged all the people in his state to attend the Campaign. Last night, the governor also attended the campaign together with his wife.
Despite many challenges and intense spiritual warfare, the meetings began as planned. Eddie James and his team led a powerful time of worship and then I preached the Gospel. There was an overwhelming response to the message. Afterwards, I prayed for the sick and we heard amazing testimonies.
There were two individuals, one man and one woman, who were both totally deaf in one ear for years. Tonight, both of them were completely healed. The woman wept tears of joy on the platform as I tested her. A woman who broke both her legs in an accident two years ago was healed from all pain and limited mobility. Others testified that as they were healed of various sicknesses, they physically felt something leaving their bodies.
This morning, the Fire Conference continued, with Peter Vandenberg and John Darku ministering to the pastors and church leaders. Please continue to pray for us and for the people here in Port Harcourt, Nigeria.
Yours in the Gospel,
Daniel Kolenda
Together with the whole CfaN team
Pictures by O. Volyk