3 - 6 November 2016
Sunyani, Ghana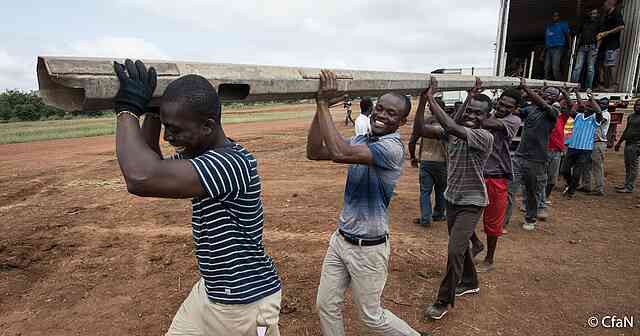 Our ground team is already preparing the field as we are only 1 week away from the start of our Gospel Campaign in Sunyani. There often isn't enough room in a city to host hundreds of thousands in a single location. So to ensure the Gospel is preached to as many as possible, our ground team will often prepare a suitable area for the large gatherings that will take place.
PLEASE PRAY for favor in the technical preparations and that the Holy Spirit would prepare all of the hearts that will receive the Gospel this week!
God bless you today!
Daniel Kolenda
Cleanest town in Ghana
Sunyani is the capital of the Brong-Ahafo Region in the middle of Ghana. Ancient and traditionally important routes for the salt trade cross here, connecting the coast to the northern parts of the country. The area used to have many elephants, and Sunyani used to be a metropole for ivory trade. But by around 1900 the elephant population had been reduced so drastically that the trade came to a standstill. People then planted large cocoa plantations. Because the world market price for cocoa used to be quite high, the city accumulated significant wealth over time. The cultivation of cashew nuts has also been an important economic factor for the region. In addition, the city is an important trade hub for staple foods such as corn and sweet potatoes.
It is estimated that almost 300,000 people live in and around the regional metropole. The city is growing rapidly and has already absorbed some former suburbs. In 2007, Sunyani was voted the cleanest town in Ghana. It has a small airport for regional flights, two hospitals, numerous schools and education facilities, government office buildings, and a university for applied sciences.
The source of the Tano river is not far from Sunyani. According to traditional superstition, the highest god of the Akan people lives there. The Akans are a West African tribe that live in this region, as well as the neighboring country, Côte d'Ivoire (Ivory Coast).