Great Gospel Campaign in Sunyani, Ghana
250% Increase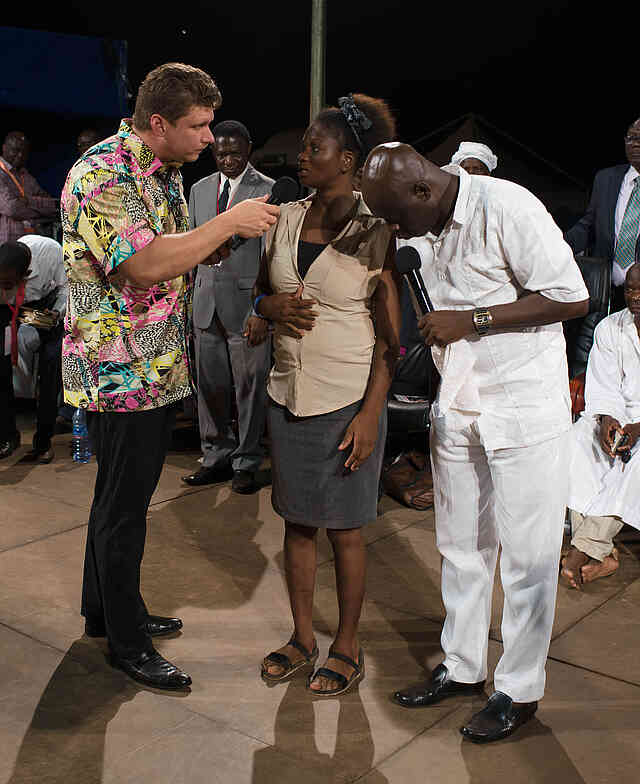 Tonight we saw a 250% increase in attendance over last night! Peter Vandenberg said he's never seen such a dramatic increase from one night to the next. This is a powerful indicator that the word has gone out both far and wide that Jesus is doing great things here in Sunyani, Ghana.
We heard that last night, a blind man who did not receive his sight in the meeting, was walking home when suddenly he was completely healed spontaneously. The power of God is touching the whole region, and multitudes are flocking to the campaign ground to experience it for themselves.
Tonight, tens of thousands received Jesus as Savior with many wonderful miracles that happened as well.
A boy who was deaf in the left ear for 6 years, received his hearing. A woman's spinal cord injury was healed. We threw her back brace away and the people rejoiced. A man who was left paralyzed from a stroke for the last two years, received his healing.
Broken bones were mended, growths disappeared and cripples walked. Glory to God!
Tomorrow is the final meeting in the Fire Conference, and we are believing for a mighty outpouring. Please continue to pray. Amazing things are happening.
Don't miss any of our exciting reports, photos and videos from Sunyani, Ghana here!
Yours in the Gospel,
Evangelist Daniel Kolenda
On Behalf of Reinhard Bonnke,
Peter Vandenberg and the whole CfaN team
My donation


for the Campaign in Sunyani