Evangelist
Evangelist – What is an Evangelist?
Evangelists are people who tell of the grace and love of God (the Good News) and of Jesus based on the Gospels. The four Gospels represent the central texts of the New Testament and are at the same time the sources that report on Jesus. They are about the birth of Jesus Christ, His ministry, His crucifixion and resurrection. In the Bible, the four authors of the Gospels are called evangelists: Matthew, Mark, Luke and John.
The main task of an evangelist is above all to convey the basics of the Christian faith and the Gospel of Jesus Christ and to invite people to conversion. For example, an evangelist can travel to different places to preach the Good News and to lead and carry out evangelistic events and campaigns.
Evangelist – What does the Bible say about Evangelists?
The Bible tells us in 1 Corinthians 1:17 that Christ commissioned us as evangelists to preach the message of salvation. In doing so, we should not try to impress our listeners with human wisdom or eloquence, since doing so would rob the message – that Christ died on the cross for our sins – of its power. Ephesians 4:11 goes on to say that evangelism is one of God's gifts to the church, designed to build and perfect the church. Philip is given as an example of an evangelist, when he went to a city in Samaria and proclaimed to the people there that Jesus is the Savior sent by God.
Evangelist – Which Evangelists are there who are well known?
When talking about evangelists, the names of particularly well-known evangelists such as Reinhard Bonnke or Daniel Kolenda come to mind. Evangelist Reinhard Bonnke, founder of Christ for All Nations (CfaN), was able to bring more than 79 million people to Jesus Christ during his lifetime and was renowned for his mass evangelism in Africa. As an evangelist, he witnessed thousands of people healed from various diseases. As an evangelist and missionary, Daniel Kolenda has already been able to lead more than 22 million people to Jesus Christ. After the death of Reinhard Bonnke, Daniel Kolenda became his successor and is the President of CfaN. His focus as an evangelist is to carry out the works of Jesus according to His example, and especially to preach the Gospel to the poor.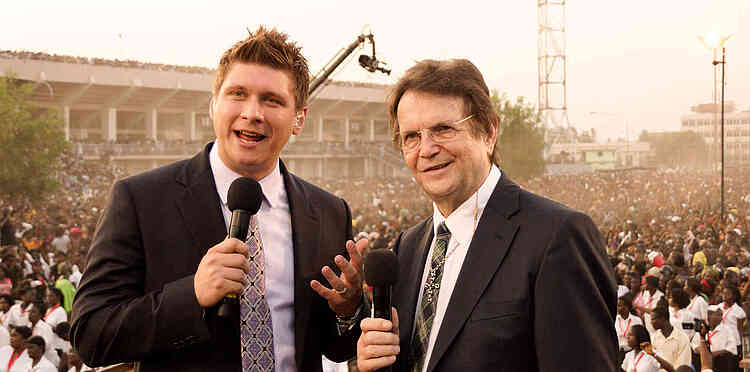 Evangelist – What does CfaN have to do with Evangelists?
Through intensive training (FireCamp, Bootcamp), CfaN equips 50 to 100 Christians at a time for the mission field. They are taught both practical and spiritual basics. Moreover, through this training, CfaN not only trains promising evangelists, but also sends them to Africa to carry out outreaches themselves. This gives CfaN teams of evangelists the opportunity to preach in hospitals, prisons, in markets or on street corners. As a result, hundreds of thousands have already been saved. In Africa, Gospel Trucks have been built for evangelistic meetings, allowing CfaN evangelists to preach in places where large meetings cannot reach. As part of these campaigns, there is an altar call and prayer for the sick. In this way, these evangelists have led hundreds of thousands to Jesus.