Thursday, 4 August 2016
Tears of Joy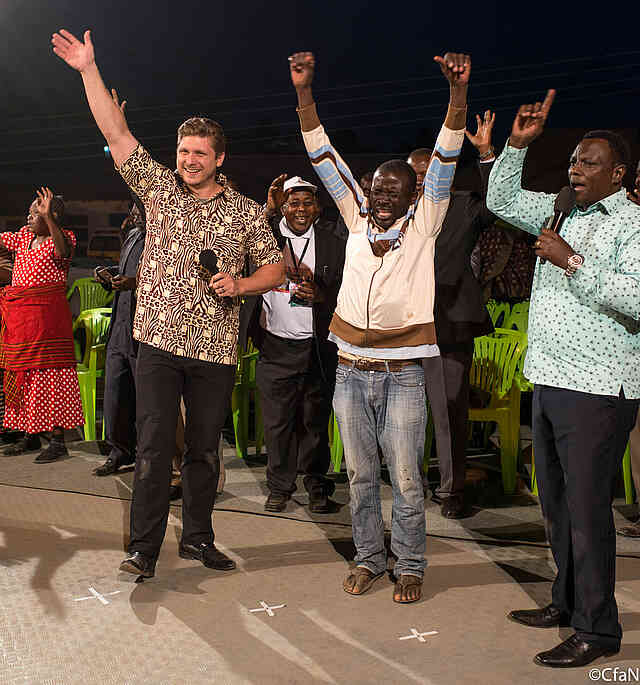 The first day of our Gospel Campaign here in Mbeya, Tanzania has just come to an end. The journey into Mbeya was very long and exhausting. We are surrounded by wilderness and beautiful mountains as far as the eye can see. It feels like Jesus was talking about Mbeya when He said to go to the, "uttermost parts of the earth."
It is surprisingly cold here. In fact, this morning when I arrived on the field, some of our European technicians were warming their hands over a toaster. Yet, the field was full of pastors and church workers, many of whom had come out before the sun had risen, sitting in the freezing cold, waiting to hear the Word of God. The people here are hungry for God, and full of faith for what He will do this week. It has already been worth every effort to get here.
Tonight, after I preached the Gospel and prayed for the sick, we heard wonderful miracles. Among them was a blind woman and another woman who was deaf in her left ear.
A man with a terrible disease in his feet had not been able to walk for a year. He had went to local doctors who said they did not understand the problem and could not help him. Tonight, Jesus touched him and healed him. He wept tears of joy as he gave his testimony. Then we danced together on the platform.
When I called for testimonies, so many people came forward that it was chaos for a while. Many demons manifested as I prayed for the sick and many thousands received Jesus tonight.
Please continue to pray for us. Our work here has just begun and I believe the best is yet to come!
Yours in the Harvest,
Evangelist Daniel Kolenda
On Behalf of Reinhard Bonnke, Peter Vandenberg and the whole CfaN team
Pictures by O. Volyk