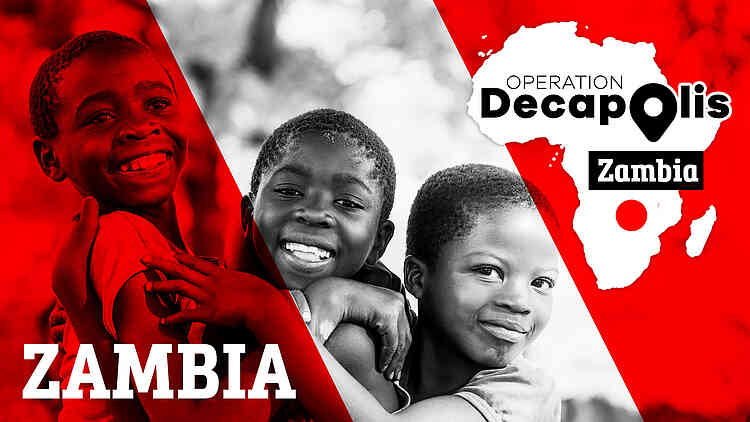 Operation Decapolis
10 Gospel Campaigns in 10 Cities
As you read this today, CfaN's advance team are on the ground in Zambia, Southern Africa. They are there to pull together our next "Operation Decapolis". Now, if you've been following events over the past couple of years at CfaN, you know that Decapolis multi-campaign events are part of our strategy for the Decade of Double Harvest. And they have been hugely successful, bringing hundreds of thousands to new life in Jesus.
This Operation Decapolis is special!
Why? Because this is the first time we will be holding ten campaigns in ten different cities. Right from the start, that's what we've been aiming for. In fact, that's why this initiative is called "Decapolis' – a word from the Bible that literally means "ten cities".
This is what we have been working up to. But as you can imagine, it has taken a vast amount of effort, investment and hard work to scale up our technical operations to do this.
You've been with us on that journey. Back in 2020, you heard how we had to take our giant sound system (the equipment that enables us to preach to as many as a million people in one place) and not only break it up into five smaller, more mobile systems, but also acquire a whole lot more equipment, train up more technicians, grow the ministry teams and a whole lot more.
Step by step towards the Vision
The first Operation Decapolis was held in Tanzania in November 2020. With the world reeling from the pandemic, our incredible team had to change everything at the last minute, moving the entire operation from Kenya to Tanzania. Our first attempt saw three simultaneous campaigns happening in three cities the first week, followed by two the next week.
Armed with everything we'd learned the first time around, we set our sights on the next Decapolis in June 2021, also in Tanzania. This time, we pushed to conduct five campaigns at the same time – all in one week! – in the cities of Tunduma, Iringa, Morogoro, Dodoma and Mbeya. With the distances in between these towns, the logistics were mind-boggling. But with the Lord's help, and an army of Bootcamp students on the ground giving it their all, this was once again a great success. Step by step, we were getting closer to our goal.
Then, in October last year, we passed another milestone. In the metropolis of Dar es Salaam (the biggest city in Tanzania), we pushed a little harder once again. This time, we held six campaigns simultaneously, and once again, the Lord blessed us with six fruitful events where hundreds of thousands gave their lives to Jesus.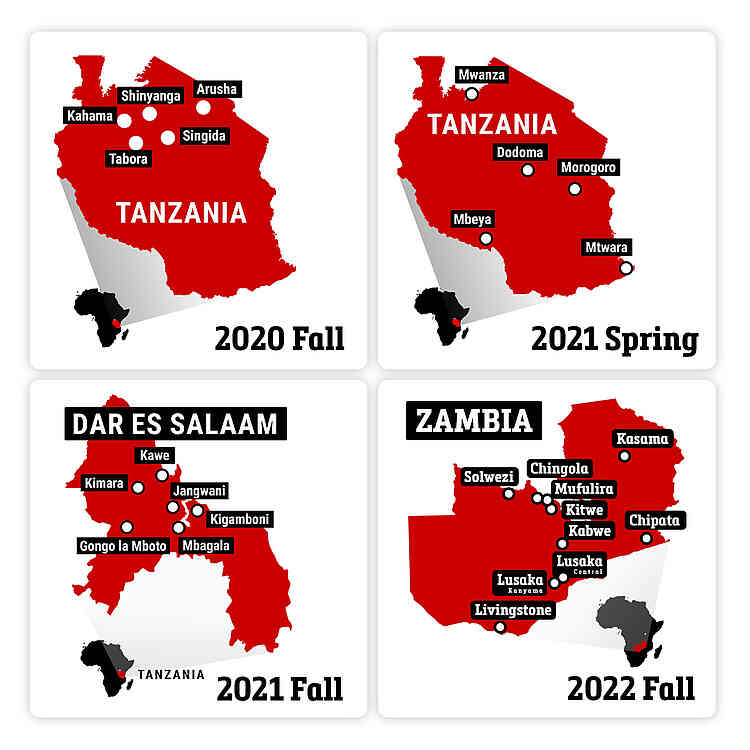 Now it's time for ten cities!
We're not holding back on what the Lord has told us to do. We're going for it! This May, we'll be holding ten campaigns in ten different cities in Zambia, in just two weeks. Through the distribution of the towns, we will be reaching the whole of Zambia – North, South, East and West. What an opportunity to impact an entire country!
None of this would be possible without the multiplication of evangelists through the CfaN Evangelism Bootcamp. In each campaign, two guest evangelists will be preaching. Most of them are Bootcamp graduates – and that's the very essence of the "multiplication and collaboration" vision that Lord gave me.
None of this would be possible for just one man, or just one team. Thankfully, we are not called by God in a vacuum. We are called to act as the Body of Christ – in love and unity. Together, we are able to do the impossible!
And that includes you
Today, I want to ask you to stand with us in making this Operation Decapolis the best yet. Will you join your faith to ours in believing for absolute excellence for the sake of the Kingdom? Will you pray for our teams in this organizational phase? And as the Lord leads you, will you help us meet the financial costs this entails? Right now, every donation is crucial to the task before us. With your help, we will see Zambia impacted by the Gospel as never before.
Together for the harvest,
Evangelist Daniel Kolenda
and the whole CfaN team worldwide