Gospel Campaign
Ogbomosho, Nigeria
22 ‒ 25 March 2018 – 603,670 registered decision cards
On Saturday, we prayed for the people to receive the Baptism of the Holy Spirit and there was a mighty outpouring with deliverance, healings, signs and wonders. Many testified of being healed of ulcers. A woman's breast lump that she had had for 7 years vanished. Another woman's large swollen leg instantly returned to normal, reducing its size by more than half! And a woman whose leg had been severely injured in an animal trap 20 years ago was healed as well.
But Daniel's favorite was the testimony of an old lady who had been unable to stand, who danced and walked with him on the platform. Afterwards, he was told she was a Muslim. So, he asked her if she wanted to become a Christian. She prayed with him on the platform and put her trust in Jesus.

Gospel Campaign
Owerri, Nigeria
6 ‒ 9 December 2018
Our technical team members were granted their visas for the second campaign, in Owerri, at the very last moment. There was no time to lose, with people jumping on planes and rushing to get to the campaign field to set up the equipment in record time.
From the very first night of the campaign, we saw the power of God demonstrated in "signs and wonders". It seemed like there was a special blessing for people suffering from all kinds of tumors, lumps and growths. Each night we heard testimonies of various growths instantly vanishing during prayer. Quite a few women with tumors in their breasts - some very large and painful - felt them disappear without a trace. And as the sky turned red from the Harmattan dust, thousands gave their lives to Jesus.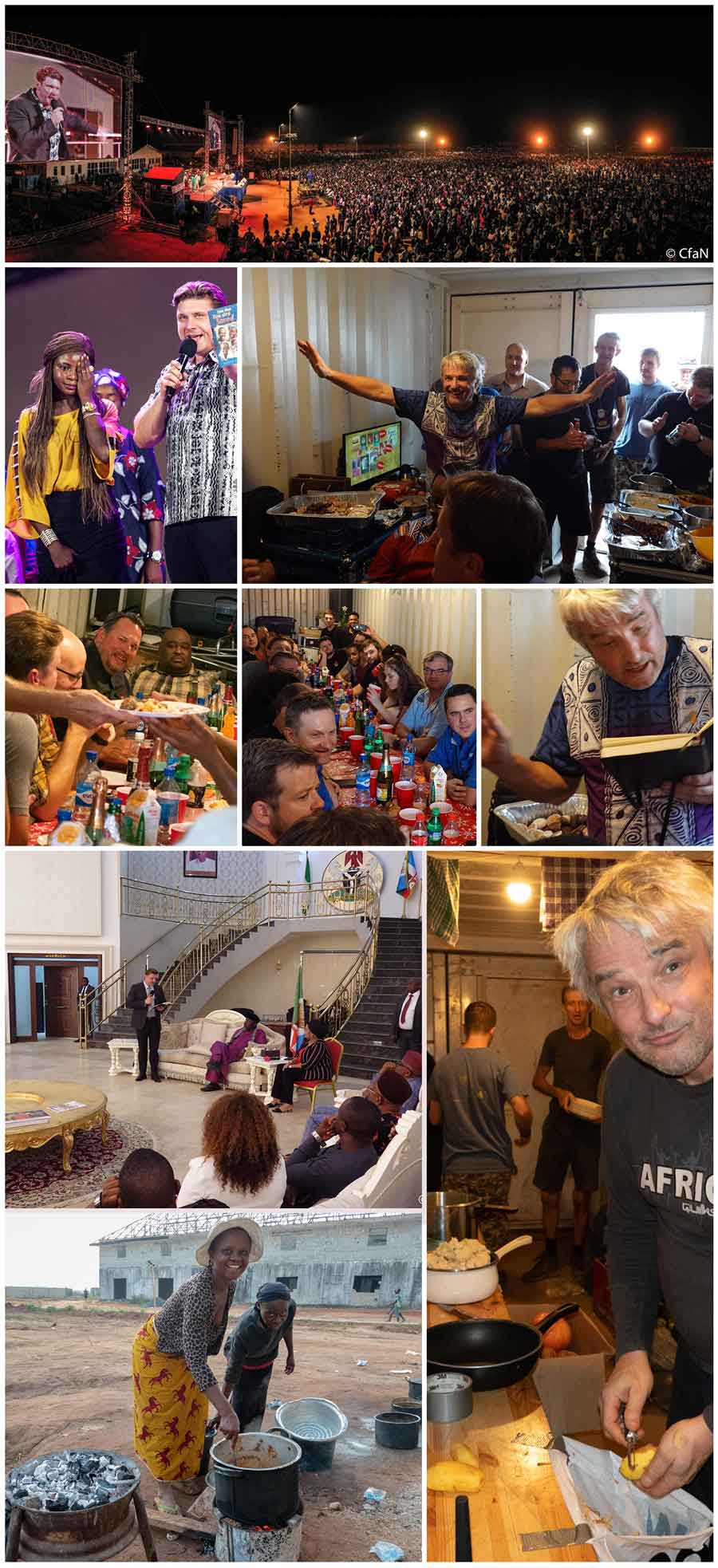 Gospel Campaign
Port Harcourt, Nigeria
8 ‒ 11 November 2018
The State Governor attended, as did many diplomats and authorities – because what happened here in River State was absolutely historic. What Jesus did here in this week will be talked about for generations to come. We've seen mighty miracles. We've seen deaf ears opened, we've seen paralyzed and handicapped people walk. But most of all, we saw many, many thousands of people surrender their lives to Jesus.

Gospel Campaign
Calabar, Nigeria
15 ‒ 18 February 2018 – 418,840 registered decision cards
Daniel Kolenda: "This is the beginning of a new season of Gospel campaigns in Africa that, I believe, will eclipse everything we have seen thus far in the harvest. I believe we are entering a "Decade of Double Harvest" that will culminate with more than 150 million souls coming into the Kingdom!"
Calabar is a city where Evangelist Reinhard Bonnke last preached in 2004. Today there is a whole new generation eager to hear the Gospel. Our first meeting was already huge. The people are hungry and open and many thousands responded to the Gospel.

14 May ‒ 19 June 2018
Big Trip – Travel Blog
3,300 km Travel Blog with Greg Vandenberg
Day 36 entry: "It gives us great joy to say that we have crossed the finishing line and have arrived in Brazzaville at last. As we had hoped, yesterday we were rapidly underway on the beautiful tar road, putting big miles under our tires. Our escort continued to do their excellent job of getting us through roadblocks with relative ease.
It felt really good to drive into this city after approaching it for so long. This morning, we were greeted by the sight of the incredible Congo river. What a view! It is reminiscent of a coastline because of its sheer size, with Kinshasa barely visible on the other side."

Gospel Campaign
Brazzaville, Republic of the Congo
9 ‒ 12 August 2018 – 201,670 registered decision cards
It was truly a glorious week, with many thousands of salvations and healings. As the campaign drew to a close, we asked local pastors to join us on stage, and Peter Vandenberg led us in praying for the many prayer requests that filled two big boxes. Finally, Daniel prayed a blessing over the entire country of the Republic of the Congo. The enemy didn't want us here, but God's plan would not be thwarted for the precious people of this nation.

"Reckless Love" Gospel Campaign
Budapest, Hungary
24 ‒ 26 August 2018
The CfaN Fire Conference and Reckless Love Gospel Campaign held from 24 – 26 August in Budapest, Hungary proved once again that God is not limited to Africa.

The biggest arena in Budapest became a real sanctuary for the three days as multitudes of believers exalted the name of Jesus. Evangelist Daniel Kolenda and his team of guest speakers ignited the Hungarian audience, reaching the hearts of believers with relevant and timely messages. Believers responded with an open heart to God's call – leaving behind hypocrisy and the fear of man, and stepping into their ministry and calling. They experienced a tremendous strengthening in all spiritual areas.
Inside CfaN
Freiburg, Lucerne and Basel
19 ‒ 21 April 2018 – A look behind the scenes, live with Winfried Wentland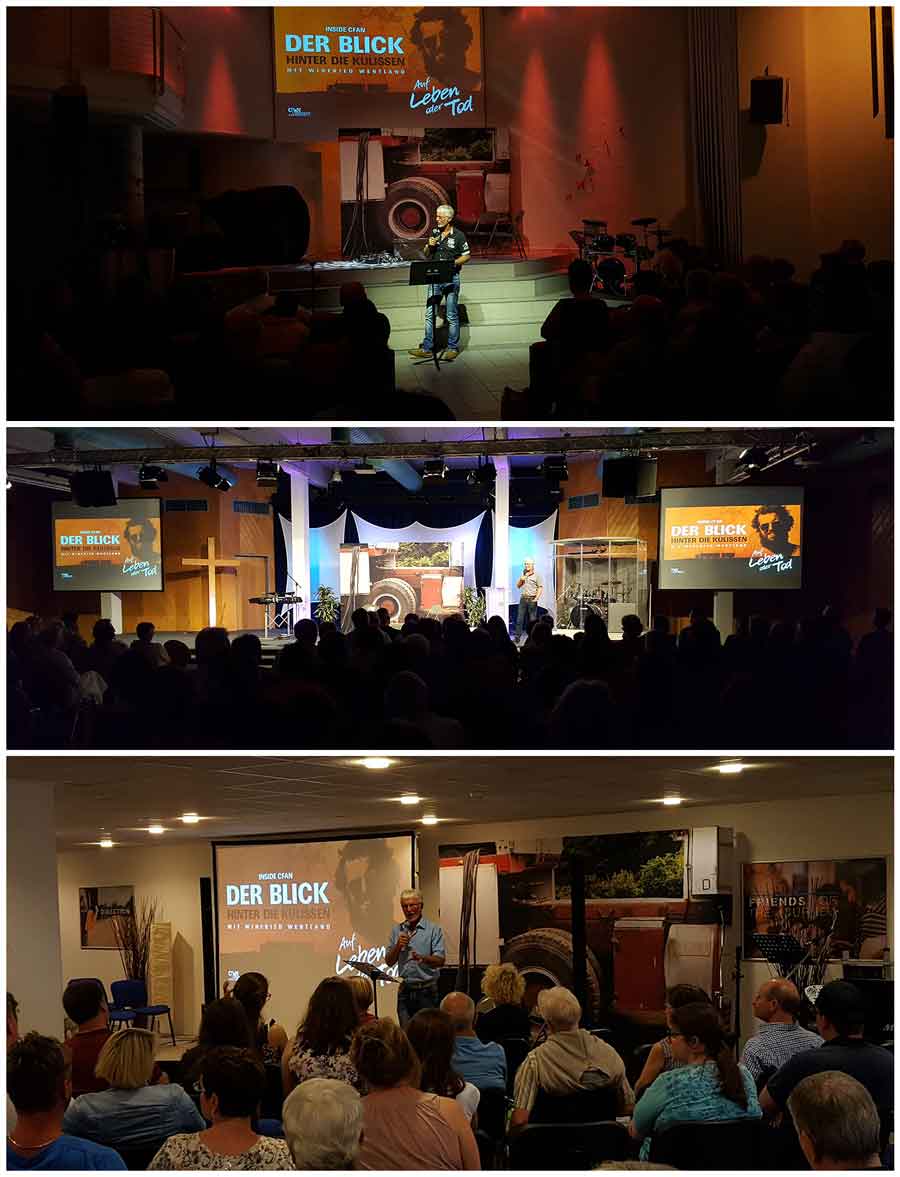 As many of our CfaN partners often ask how "the stage in the bush" happens, we put together a special report under the name, "Inside CfaN – a look behind the scenes", to tell our partners what goes on in the background before a CfaN Great Gospel Campaign can take place.
It quickly became clear to the attendees that this was not about old stories, but rather current events and ongoing challenges. Whether dramatic or humorous, threatening or hair-raising, the common theme was always the grace and faithfulness of God, without whom we can do nothing.
"Burning Hearts" with Daniel Kolenda
Luedenscheid, Germany
18 ‒ 21 May 2018
Visitors traveled from over 40 countries to attend 'Burning Hearts 2018'. It seemed no journey was too far, no cost and effort too great. Daniel Kolenda kept his promise: "I am here to take you out of your comfort zone and I want to tell you that you are not called to warm church pews – GO!" He stirred appetites with many testimonies of signs and wonders that he has seen and experienced in over 10 years on the ground with CfaN.
"The church belongs on the street and the Gospel must be preached and demonstrated with power!" There was no lack of spiritual meat to chew on at 'Burning Hearts'. Every message was pure challenge.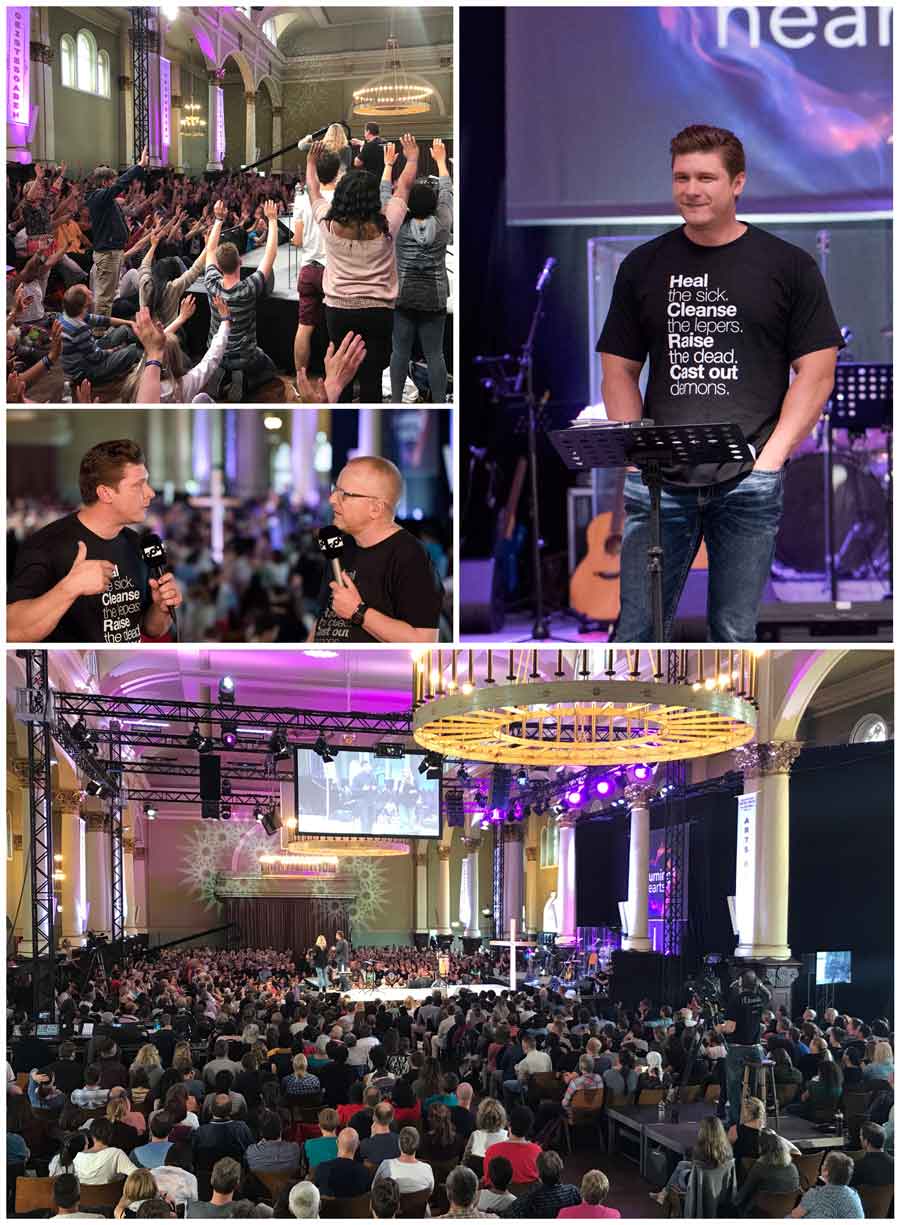 "Light The Fire Again" Conference
Toronto, Canada
25 ‒ 28 April 2018
In the 1990's, waves of revival swept around the world. The lives of millions – including us here in Europe – were changed forever. In April 2018, we at CfaN initiated a historic conference where it all began. Many leaders of the "Toronto Blessing" gathered, leaders still in active ministry today, coming together to "Light The Fire Again."

This move of God had a powerful, long-lasting effect on our continent at the time. That's why it was a special priority for us to make sure that all those who couldn't be there in person in Toronto, Canada, could still take part in this unique event through our Web Conference. It's still definitely worth a watch today!
Web Conference online
We are already looking forward to next year's conference on May 1 – 4, 2019.
Tickets for 2019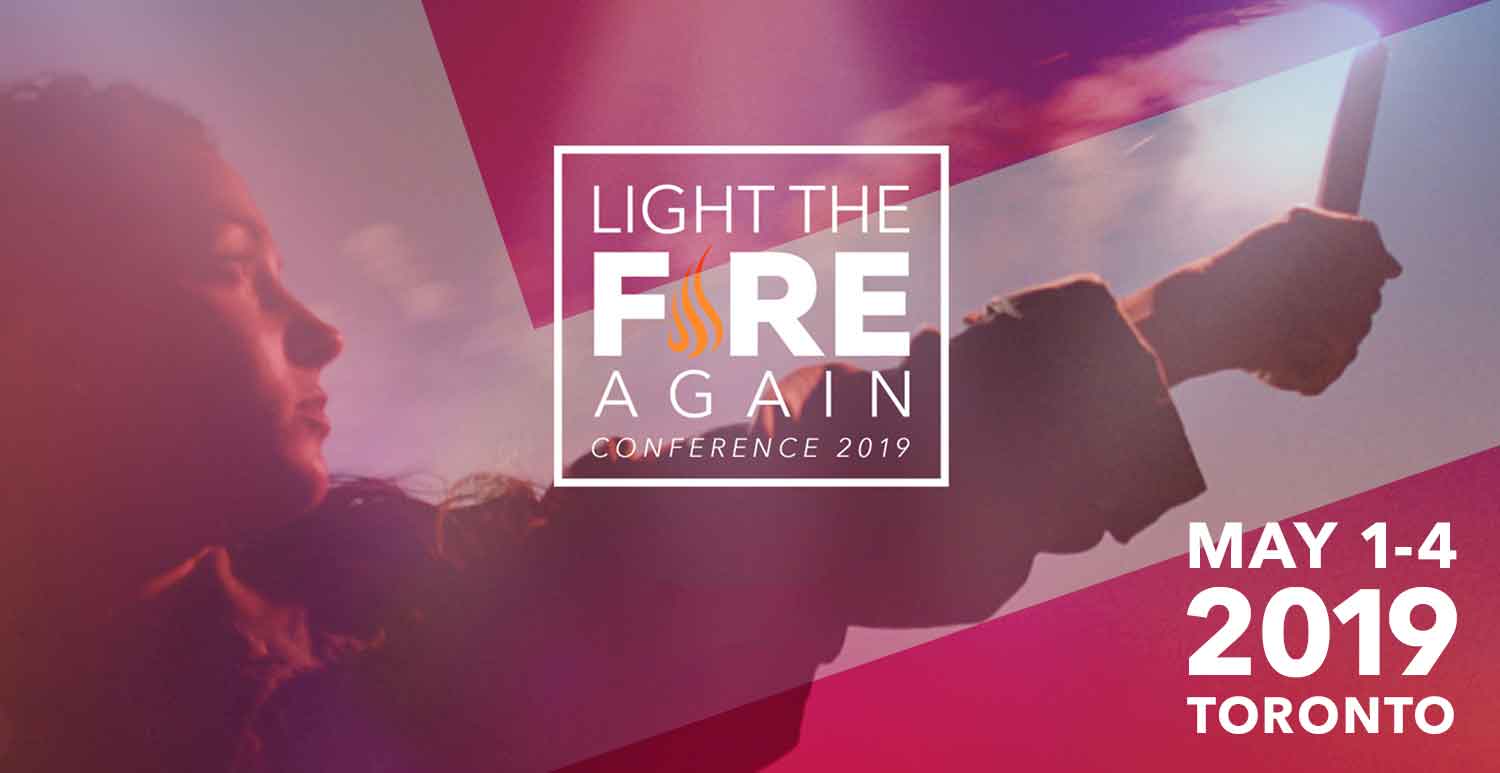 "Encounter-Fire18" Conference
Jacksonville, Florida
9 ‒ 10 February 2018
This year in Jacksonville, Florida, nearly 2,500 people gathered at Evangel Temple. Kim from Missouri shared the following about Fire18: "I have never experienced His presence this strong, fresh, and new continuously. The Holy Spirit is revealing new aspects of Himself, God, Jesus, and the written Word."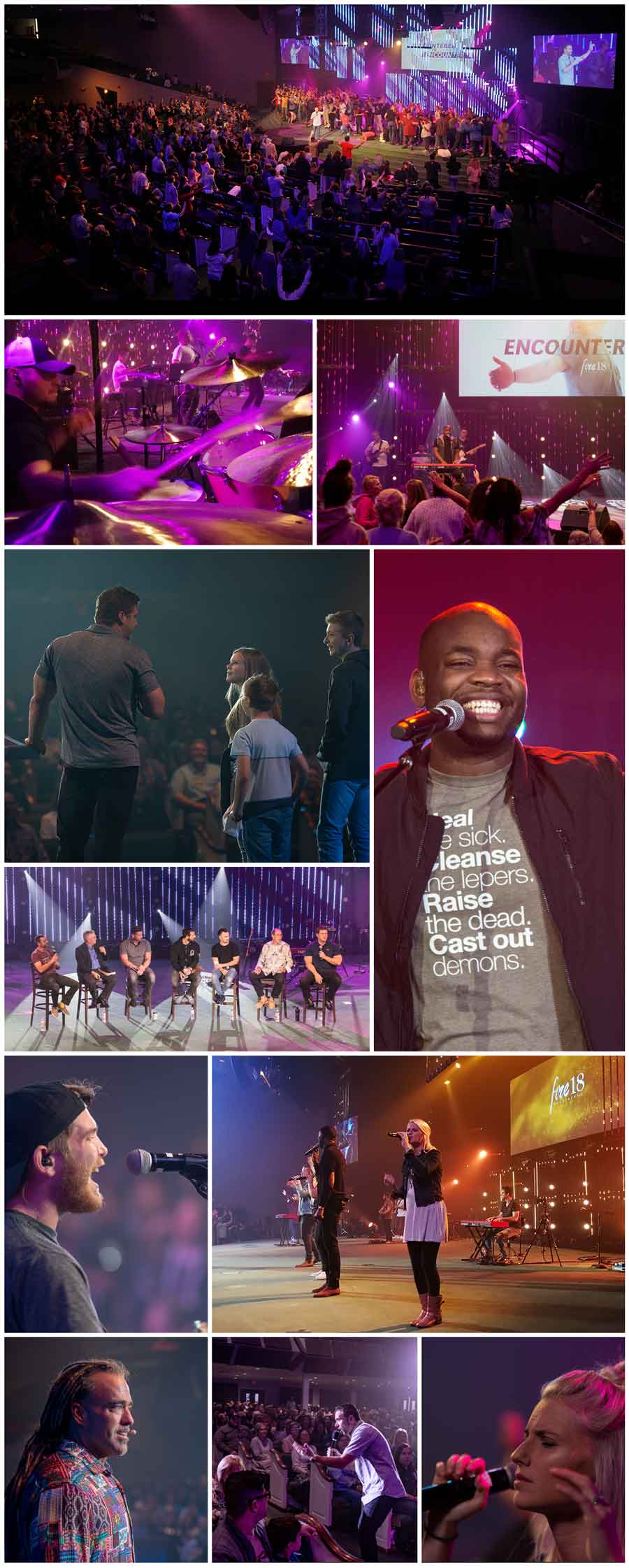 School of Evangelism
Orlando, Florida
3 ‒ 6 April 2018
"Our desire is to not only share with you what we have learned through God's super-harvests of souls across the world, but 'to impart our own lives.'" The SoE offers students teaching from world-renowned preachers and evangelists, time for questions answers with the teachers, and networking opportunities with other evangelists.
Just over 100 Christians who feel they have been called to evangelism came to CfaN in Orlando to participate in a remarkable time of equipping by Daniel Kolenda and other speakers. There were powerful times of worship and the Holy Spirit did amazing work in every single life.
Register here for 2019

New every week
CfaN TV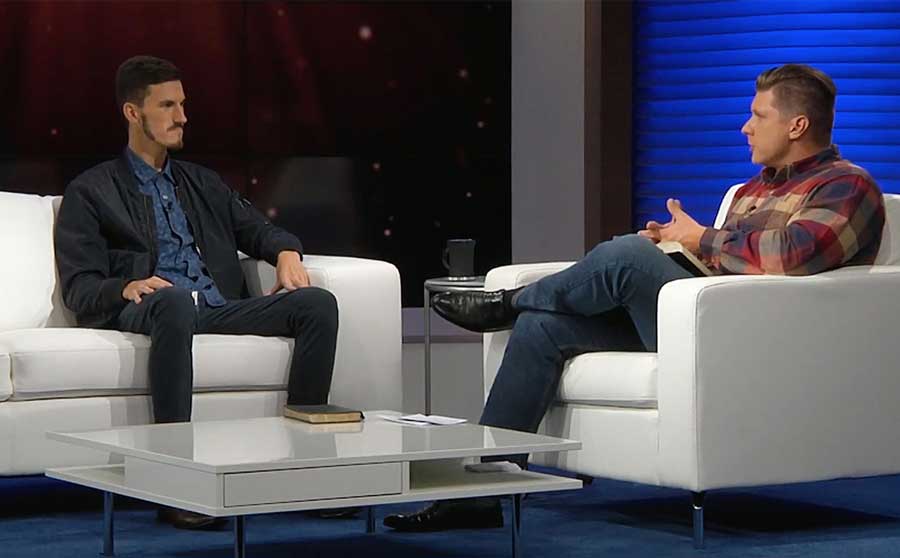 Daniel Kolenda and Reinhard Bonnke can be seen every week in new English-language broadcasts on the CfaN website.
CfaN TV broadcasts for you in English on the CfaN webpage: Interesting stories, healing testimonies, glimpses of the work of an international ministry, new and exciting…
Be sure to take a look!
And of course:
"GOOD NEWS" with Daniel Kolenda on GOD.TV

In 2018, we continued our partnership with God TV to bring you new, inspiring episodes featuring Evangelist Daniel Kolenda and more anointed special guests. You can watch GOOD NEWS on God TV Monday through Friday at 19h.
God.TV can also be received via satellite. More info here:
Monday to Friday, 20:00 – 20:30 (CET)