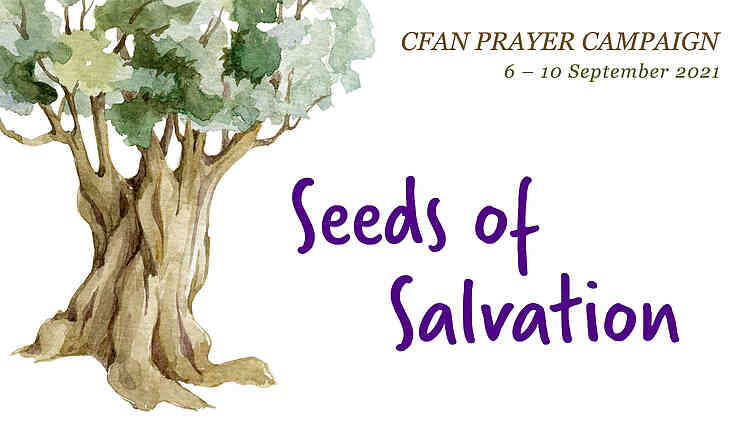 CfaN Prayer Campaign 2021
Seeds of Salvation
Next month is our annual Prayer Campaign (6 – 10 September), where we put aside a week to focus on intercession for our ministry partners. We want to pray for you and with you, agreeing together for the miracle you've been waiting for – and this year's Prayer Campaign has a very specific and important focus that's close to all our hearts.
Whose salvation are you praying for?
When you hear that question, I'm sure someone immediately leaps to mind. A brother or sister, a parent, a spouse, a friend, a colleague… We all know someone we love, whom we long to see meet Jesus. Maybe you've been praying for them for many years, crying out to the Lord for their salvation. Your heart is burdened for them, and that longing for them to be reconciled with God comes straight from Him. If your heart breaks for them not knowing Jesus, imagine how much more the Father longs for them to know Him.
The Parable of the Sower
We're all familiar with the Parable of the Sower, where Jesus taught about the seed falling on different types of ground. It gets used a lot when preachers talk about sharing the Good News. For the disciples listening to Him tell the story, though, it wasn't immediately obvious what Jesus meant. In fact, they asked Him, "Why do you speak to the people in parables?"
So, Jesus patiently explained it to them – and to us. This was clearly a very important message, worthy of Him telling it twice to make sure we understand it!
"Listen then to what the parable of the sower means: When anyone hears the message about the kingdom and does not understand it, the evil one comes and snatches away what was sown in their heart. This is the seed sown along the path. The seed falling on rocky ground refers to someone who hears the word and at once receives it with joy. But since they have no root, they last only a short time. When trouble or persecution comes because of the word, they quickly fall away. The seed falling among the thorns refers to someone who hears the word, but the worries of this life and the deceitfulness of wealth choke the word, making it unfruitful. But the seed falling on good soil refers to someone who hears the word and understands it. This is the one who produces a crop, yielding a hundred, sixty or thirty times what was sown." (Matthew 13:18-23)
We want to pray for your loved ones
For this Prayer Campaign, we want to pray for your unsaved loved ones by name. We're praying for seed to fall on good ground and take root. We're praying for the one who hasn't understood the message yet, and the one who once received the word with joy – but lasted only a short time. We're lifting up those who have fallen away or become unfruitful. And we're praying for you, too, that your faith will not waver, nor will you grow weary in believing for their salvation.
The smallest seed becomes a mighty tree
In our Frankfurt office during the Prayer Campaign, we have a giant banner of an olive tree – a symbol of the miracle that happens when seed falls on good soil. We encourage you to use the paper leaf in this mailing to write the first name of the person you are praying for and send it back to us. We'll put it on the tree – and we'll pray for them by name. Of course, you can write as many names on it as the Lord has laid on your heart. You can also go to our website and fill in the form there – and we'll write out their names for you.
You can join us in prayer each day
From Monday 6 September to Friday 10 September, we'll be meeting in our Frankfurt office to pray each day:
Mon, Tues, Thurs, and Fri:
Evening 6:30 pm - 7:30 pm
Wed:
Morning 6:30 am - 7:30 am
We're thrilled to be joined by Bootcamp graduates Daniel and Katrin Smenes, Dennis Wiens, Matias Toivainen and others, who are excited and honored to have the opportunity to bless you, our beloved partners in this ministry. We will be live streaming every prayer session on our Facebook page: facebook.com/cfaneu.
facebook.com/cfaneuWe are believing with you for the salvation of your loved ones! There's tremendous power when we agree in prayer together. Jesus said it Himself: "Again I say to you that if two of you agree on earth concerning anything that they ask, it will be done for them by My Father in heaven." (Matthew 18:19)
So please take this opportunity to join us in September and we will agree together for "Seeds of Salvation" to fall on good soil for those you love. It's God's heart to bring every one of them to salvation, and we are going to stand in the gap with you for them. I can't wait to hear the testimonies that will follow!
Together with you in Jesus,
Evangelist Daniel Kolenda
together with the CfaN Frankfurt team
Seeds of Salvation – Prayer Campaign
Yes! Please pray with me for the salvation of my loved ones. I would appreciate prayer about the following areas (tick as many as apply):